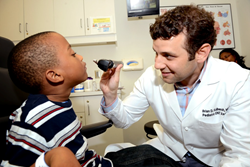 "Our pediatric ENT doctors are passionate about informing parents on how to maintain their children's ear, nose and throat health," said Dr. Kulbersh
BIRMINGHAM, Ala. (PRWEB) April 30, 2018
The parent-friendly blog found on Birmingham, Alabama's Pediatric ENT Associates' website has been named one of "Top 30 ENT Blogs and Websites To Follow in 2018" by Feedspot. The winners were selected from thousands of web-based ear, nose and throat (ENT) medical specialist sites. The entries were judged based on the quality and consistency of their content as determined by Feedspot's editorial team and expert review, influence and popularity on social media, and Google's ranking and reputation.
"We're honored that our educational content been selected for Feedspot's Top 30 list," said Dr. Brian Kulbersh, a board-certified pediatric otolaryngologist and surgeon at Pediatric ENT. "Our pediatric ENT doctors are passionate about informing parents on how to maintain their children's ear, nose and throat health. The blogs offer easy-to-follow tips that help mom and dad understand the importance of early detection of common issues."
The Pediatric ENT blogs advise parents on how to cope with the ordinary stresses and illnesses of childhood such as seasonal allergies and staying healthy during flu season. The blogs also help parents identify the signs and symptoms of more serious conditions such as ear infections, sleep apnea or hearing loss.
"As a parent myself, I know it can be confusing to decide when a child needs medical attention," said Dr. Brian Kulbersh. "Does he just have the sniffles because there's a cold going around the school or because he has allergies that should be addressed sooner rather than later? Is my child's sinusitis caused by too much time in the pool this summer or does she have enlarged adenoids or a deviated septum?"
Another purpose of the Pediatric ENT Associates blog is to demystify the role of the pediatric ENT as part of any child's health team. Regular hearing tests, for instance, can catch hearing loss at an early stage when it might still be reversed.
"We want to encourage parents to bring their children for an ENT consultation when any issues arise with their child's ears, nose or throat," said Dr. Kulbersh. "As specialists, we can detect conditions that might be missed on a more general examination."
In addition to addressing ear, nose and throat health, the doctors at Pediatric ENT can help with head and neck aesthetic problems. The surgeons can remove disfiguring birthmarks, correct nasal abnormalities and improve overly large or protruding ears.
"We'd really like to thank Feedspot for recognizing the educational value of the Pediatric ENT blog," said Dr. Kulbersh. "We look forward to bringing the parents and children of Alabama even more knowledge and comfort in the future."
Learn more about Pediatric ENT's blogs, pediatric nasal conditions and treatment options: http://www.PediatricENTAssociates.com/Kids-Nose-Conditions/
Pediatric ENT Associates is comprised of five doctors who specialize in the diagnosis and treatment of a full range of pediatric ear, nose and throat conditions in Birmingham, Alabama. Dr. Brian J. Wiatrak, Dr. Audie Woolley, Dr. J. Scott Hill, Dr. Nicholas J. Smith and Dr. Brian Kulbersh are all fully board-certified and have an up-to-date medical license from the state of Alabama. These doctors provide care for children of all ages experiencing ear, nose and throat conditions, including cochlear implants, tonsillectomies, vascular malformation treatment, myringotomy tubes and more. In addition, Pediatric ENT Associates is a department of Children's of Alabama, one of the largest pediatric medical facilities in the U.S. that provide medical care and a nearby outpatient center, Children's South, for further treatment. Pediatric ENT's doctors are regularly published in peer-reviewed medical journals and provide both national and regional lectures.
For more information, please visit http://www.PediatricENTAssociates.com.
Children's of Alabama - Pediatric ENT Associates
1940 Elmer J. Bissell Road
Birmingham, AL 35243
(205) 831-0101
ENTPediatrics(at)gmail(dot)com