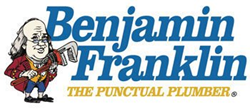 We work hard to make our website as helpful as possible to anyone in the Wichita area with plumbing issues.
WICHITA, Kan. (PRWEB) April 30, 2018
Ben Franklin Plumbing, Wichita's top plumbing company, is proud to announce a new showcase feature for plumber reviews on its website. The new "pop-up" feature can allow residents to read plumber reviews from others in the community quickly and easily on the website. Topics can include all types of plumbing jobs from toilet installations to water heater repair and even even to "trenchless sewer line" repairs for Wichita, Kansas, and nearby cities in Central Kansas.
"We work hard to make our website as helpful as possible to anyone in the Wichita area with plumbing issues," Commented Jason Clark, Manager of Ben Franklin Plumbing of Wichita, Kansas. "The new pop-up customer review feature is yet another way to share our story with the community and showcase our lead as Wichita's most reviewed plumber."
To experience the new "pop-up" feature highlighting Wichita plumber reviews on the Ben Franklin website, please go to http://www.benfranklinwichita.com. Next, click on the blue "customer reviews" icon on the far right. Persons interested in learning more about plumbing service can also visit detailed pages on the website such as the page on "drain cleaning" at http://www.benfranklinwichita.com/clogged-drain.
FINDING THE BEST PLUMBER IN WICHITA VIA ONLINE REVIEWS
Here is a background on this release. Savvy businesses have learned how to attract customers through slick branding and impressive websites. An image of reliability and quality could begin to take shape. The term "buyer beware" can still apply, however. A website might appear professional yet Wichita locals may not have had a positive experience. Personal recommendations by neighbors and friends could be helpful in choosing the right service or product, yet they are hard to access. If a homeowner is searching for a top Wichita plumbing service, reading plumber reviews by other Wichita residents may help make the best choice.
For this reason, Ben Franklin Plumbing has announced a new pop-up feature to the website that features its incredible reviews from real customers on sites like Google, Yelp, and Yellow Pages. Kansas locals searching for a top Wichita plumbing service can read plumber reviews from other homeowners in the community. Important jobs such as installing a water heater or new toilet may need to be managed by a top plumbing service. Selecting the best Wichita plumbing team may have become easier with a simple to access pop-up plumber review feature.
ABOUT BEN FRANKLIN PLUMBING OF WICHITA, KANSAS
Ben Franklin Plumbing is a top-rated plumbing and drain cleaning service, serving greater Wichita, Kansas and located at 2825 E. Kellogg Avenue. The company offers 24/7 emergency plumbing service not only to Wichita but to surrounding communities such as Derby, Andover, and Haysville, Kansas. A professionally licensed Wichita plumbing service is ready for plumbing problems such as: drain cleaning service, installing pump systems, water heaters installations, sewer line clean-outs and faucet repair. The company also replaces and installs faucets, garbage disposals and toilets. Commercial plumbers and residential plumbers are ready to serve. When searching for sewer repairs and unclogging drains in Derby, Andover, Haysville or Wichita, Kansas, Ben Franklin Plumbing is available.
Web. http://www.benfranklinwichita.com/
Tel. 316-858-5985