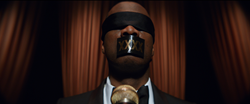 PITTSBURGH (PRWEB) April 27, 2018
An estimated 103.4 million people tuned in to watch the Super Bowl this February and with it, the most anticipated commercials of the year. One spot in particular stood out - directed by Antoine Fuqua, the commercial began with Pras Michél walking onto a stage, blind folded and with tape on his mouth. As Michél removed the blindfold and tape, he gave a knowing look into the camera as the words "Be Celebrated. Not Tolerated," appeared on the screen.
Both viewers and the media embraced the commercial - it was included among the five best of the night by the Chicago Tribune and called "one of the boldest" by the Washington Post. Social media was set ablaze with enthusiasm, but little was known about what it meant.
The veil of secrecy will soon be lifted as Michél takes the stage at the University of Pittsburgh on May 2, 2018. Blacture, a multifaceted tech platform designed to jumpstart a new era of black renaissance, will be fully revealed. Blacture is unlike any entity or organization - it aspires to be the epicenter of Black culture and a hub for innovation created by Black people worldwide.
Some may ask, why Blacture and why now? To put it succinctly: "This is a great time for Black culture," says Michél.
This summer, Blacture will roll out an editorial component, which will cover often overlooked news and amplify unheard voices - storytelling that informs and moves the Black community (and everyone who embraces Black culture). The platform will also grow to include health care services, financial services, job creation and urban development within the next six months to a year.
One of the most anticipated features of Blacture is a mobile phone that utilizes block-chain technology in tandem with a monetary incentive program. Created in partnership with mobile industry experts, the phone is linked to a debit card that enables people to transfer money to friends and family domestically and abroad. It serves as part of Blacture's mission to uplift the Black community through economic empowerment.
The idea to formally debut Blacture in Pittsburgh was introduced by an entrepreneur named Erik Hicks from San Francisco and James N. Williams III, a native son of the Steel Town. Michél ultimately chose the city for Blacture's launch because, as the rust belt faced decline, Pittsburgh actively invested in education and technology as a way to re-invent itself. However, although the city is 26% Black, it is slowly losing its Black population. Blacture and the University of Pittsburgh will work together to retain the city's best and brightest and help Black tech flourish.
The City of Pittsburgh will proclaim May 2, 2018 as Blacture Day at 10am the day before in a ceremony at City Hall (414 Grand St). Following the proclamation, Pras Michél will meet with student leaders at the August Wilson Center for African American Culture (980 Liberty Avenue, Pittsburgh) for a dialogue and surprise announcement.
On May 2, 2018, the main event will kick off at 2pm with remarks from University of Pittsburgh Chancellor Gallagher at Alumni Hall (4227 Fifth Ave), followed by a presentation from Pras Michél that will rewrite history.
Twitter: @Blacture
Instagram: @realblacture
Facebook.com/realblacture
###