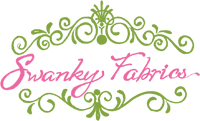 GREENSBORO, N.C. (PRWEB) April 27, 2018
Representatives with Swanky Fabrics, a Greensboro, North Carolina-based company, announced today that customers are now able to use PayPal Credit for items in its online store.
"PayPal Credit makes it possible for our customers to purchase the fabrics they want, especially for large projects of upholstery and designer fabrics to remodel your home," said John Dawkins, president of and spokesperson for Swanky Fabrics, a company that believes Swanky is a way to say who you are without having to speak.
Dawkins explained that PayPal Credit is a line of credit that gives customers the flexibility to pay for their purchase now, or pay over time. In addition, with PayPal Credit, customers will have the option to make no payments for six months, on qualifying purchases. There is no annual fee to use PayPal Credit.
As for how to start using PayPal Credit, all customers have to do is select PayPal Credit as their payment choice during checkout. Customers will then be asked to provide their date of birth and their social security number, and then to agree to the terms and conditions, to apply for a PayPal Credit account. The customer will know within seconds if they're approved.
And perhaps the best part about it, according to Dawkins, is that the customer's PayPal Credit account will be linked to their PayPal account and they'll see it as a payment option every time they check out with PayPal.
"We have some of the best fabrics around and now that PayPal Credit is an available option for customers to use, getting the designer upholstery fabrics is now easier than ever before," Dawkins stressed. "I invite everyone to visit our website and browse through the items we have available. I'm sure you'll love what you see."
For more information, please visit https://www.swankyfabrics.com/about-swanky-fabrics.html and https://www.swankyfabrics.com/blog/.
About Swanky Fabrics
Swanky Fabrics is a leading online destination for upholstery and drapery fabrics from over 50 brands such as Barrow, Duralee, Fabricut, Kravet, Magnolia, Robert Allen, Scalamandre, Sunbrella, Waverly etc.
Source: Swanky Fabrics
###