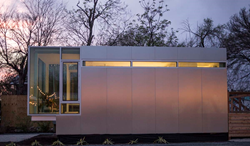 "The Align Project will confront some of today's biggest challenges," says Green Builder Media CEO Sara Gutterman. "Whether we like it or not, the changing climate is demanding a sweeping overhaul of the way we live. "
LAKE CITY, Colo. (PRWEB) May 08, 2018
Green Builder Media, the nation's leading media company focused on sustainable living, is joining forces with Austin-based engineered homebuilder Kasita to launch The Align Project: A Rendezvous with Reality (https://www.greenbuildermedia.com/vision-house-the-align-project).
The one-year demonstration project will challenge entrenched ideas about how we live in the U.S. and offer suggestions for how we can align our lifestyles with our changing socio-economic and environmental realities.
"The Align Project will confront some of today's biggest challenges," says Green Builder Media CEO Sara Gutterman. "Whether we like it or not, the changing climate is demanding a sweeping overhaul of the way we live. Fortunately, advances in high-performance products and enabling technologies are providing viable solutions for enhanced efficiency, resiliency, sustainability, and connectivity, transforming our homes, offices, and cities from passive spaces into intelligent control centers."
The centerpiece of The Align Project is Kasita's smart, modular, net-zero, accessory dwelling unit. The precision-engineered home takes advantage of every square foot of space and comes with Kasita's integrated smart home technology platform, which seamlessly integrates the home's devices, appliances, lighting, and mechanical systems.
"We can either remain stagnant or create solutions to today's challenges. Maximizing our living spaces through thoughtful utilization of every cubic inch is our commitment to alleviating the issues at hand," says Kasita's Head of Marketing, Nelson Rudolph. "Supporting The Align Project is a no-brainer for us. Designing a sustainable home is a by-product of our commitment to delivering the best possible living spaces to our consumers. We are thrilled to be in the company of the industry's thought leading businesses to showcase a collective solution to the ever-changing world we inhabit."
Recognizing that sustainable living extends beyond the home, The Align Project will also focus on revamping our cities, energy infrastructure, mobility solutions, and finances, highlighting sustainable choices that align with our moral compass to ensure a flourishing future.
"It's time for a reality intervention," says Matt Power, Green Builder Media editor in chief. "When we align the best aspects of life—family, love, the right balance of work and play—with how and where we live, that's magic. With The Align Project, we hope to shatter the hall of mirrors that is the modern, oversized, inefficient home in a far flung suburb, and imagine a new American Dream."
The Align Project (https://www.greenbuildermedia.com/vision-house-the-align-project) will showcase a wide range of high-performance products and advanced technologies, including:

Super-efficient photovoltaic solar panels from Jinko Solar
Fully integrated smart home automation system from Loxone
Protective membrane (Housewrap) from DuPont
High-performance stone wool insulation from Rockwool
Clean mobility solutions from Toyota
Don't miss The Align Project at:

Solar Power International (September 24-27, 2018, Anaheim)
CES (January 8-11, 2019, Las Vegas)
Design & Construction Week—IBS/KBIS (February 19-21, 2019, Las Vegas)
About Green Builder Media
Green Builder® Media, LLC is the nation's leading media company focused on green building and sustainable living. With a comprehensive suite of content marketing, online, digital, social, and print media options, high-profile demonstration projects, market research, and live events, Green Builder Media offers award-winning information about a broad spectrum of sustainable living topics, including Internet of Things, smart home technologies, energy efficiency, intelligent water, indoor air quality, resilient housing, renewables, and clean transportation. For more information, visit http://www.greenbuildermedia.com.
About Kasita
The team at Kasita believes that every aspect of your living space should make your life simpler and fuller. They've reinvented the home for the way you actually live. From ceiling to floor, every last cubic inch is designed to maximize the home dweller's experience. The result: an exceptional small home that contains everything you need and nothing you don't. For more information, visit http://www.kasita.com.