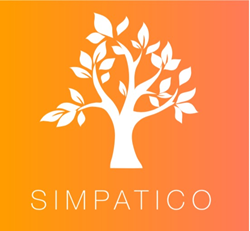 ALEXANDRIA, Va. (PRWEB) April 30, 2018
Android users can now enjoy getting to know more people in-person who are located around them within a 10-mile radius and share their common interests and experiences. Simpatico Small World LLC announced today the launch of the Android version of its first-of-kind mobile app Simpatico It's A Small World. The app is designed to be a powerful supplement to existing social media sites. Simpatico allows people to increase their frequency of in-person connections, at no charge, with those nearby sharing similar interests and life experiences. This makes it easy for users to identify an individual near them with whom they share a common bond and the app is meant to bring to mind the refrain "It's a Small World."
Originally designed as an iOS app, through crowd sourcing the easy-to-use app now provides Android users with the ability to populate certain attributes and individual interests within their profile. Simpatico will then show other users, within the same 10-mile radius, which have commonalities such as a hometown, school, organizations, sports, hobbies, events, weddings, historic events or even survivors of tragedies. Simpatico lets its users move beyond the keyboard and create meaningful, in-person relationships with others with whom they share a common bond. It fills a social void by connecting people who may have crossed paths for weeks, months and even years – without ever knowing it.
Simpatico It's A Small World's user experience is streamlined and easy. Users create a profile and include their attributes, interests and experiences. Connections are by invitation only via notification when users share one or more of the same interests and are located within a 10-mile radius. Once connected, users can communicate with each other through the texting feature. Texting within the app is done without revealing a user's phone number. For added security, Simpatico does not capture or pinpoint where app users are on a map, but rather it provides a distance range between 0 up to 10 miles.
Simpatico will continue to evolve to provide users with the best experience possible. This includes introductions of new categories, based on users' requests, which will allow people to connect more easily. The new categories will be in the areas of Mentoring, Travel, Fitness and Philanthropy. Users will receive update notifications when new categories are added, so be sure to download Simpatico today.
Visit http://simpatico-online.com/ for more information or to download Simpatico It's A Small World for Android go to https://play.google.com/store/apps/details?id=simpatico.com
Media Contact
Ria Romano
RPR Public Relations, Inc.
Tel. 786-290-6413