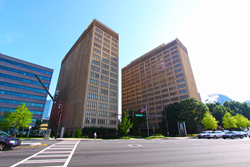 Atlanta, Georgia (PRWEB) April 30, 2018
FirstService Residential, Georgia's leading property management company, is relocating its corporate offices to Atlanta, effective April 30, 2018.
The corporate office, currently located in Alpharetta, will move to the heart of Buckhead. FirstService Residential will occupy the 17th floor of Lenox Towers, located across from Lenox Mall. The state-of-the-art facility will feature an open concept layout equipped with meeting rooms for the company's associates and customers, collaborative workspaces and a training room with space for up to 70 people. The new location is easily accessible to public transportation, MARTA, Georgia 400 and Interstate 85.
"We are excited to relocate to our new office space in Atlanta," said Mark Stoops, president of FirstService Residential. "This location will make it that much easier for us to bring our depth of resources and local touch to the Atlanta market, and provide the exceptional service and solutions that only FirstService Residential can deliver."
The 4,000-square-foot office is located at 3400 Peachtree Road, N.E., Suite 1700, Atlanta, GA 30326. To commemorate the occasion, FirstService Residential will host a ribbon-cutting ceremony and grand opening celebration for the clients it serves in May. Guests are invited to tour the new office, meet members of the team, and enjoy drinks and hors d'oeuvres.