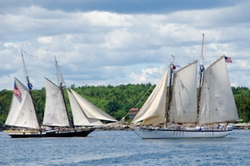 Boothbay Harbor, Maine (PRWEB) April 27, 2018
The 56th edition Windjammer Days Festival will feature a new look at what previously was called the parade of sail.
The festival will run from Sunday, June 24 to Saturday, June 30. This year, on Wednesday from 1:00 to 3:00 p.m., drones will stream live video to jumbo (10' H x 12' W) LED screen in Whale Park, as an announcer narrates the "Gathering of the Fleet." For those who will want to see the gathering from the water, there will be plenty of boat tours available.
The "Gathering of the Fleet" is just one of the innovations on this year's festival calendar. Another is the first Crab Cake Cook-off with chefs from Boothbay Harbor. The first 20 guests will receive a wristband and get to participate in the "people's judgment." Cash donations at the cook-off will support the festival.
The Linekin Bay Resort, a popular Boothbay Harbor venue, will be putting on a tasting event on Monday, June 25th.
The Miss Windjammer Pageant is morphing into "Windjammers Got Talent." Boys and girls will compete.
Artist Alley will be back and will feature live music on Friday afternoon of Festival Week.
Across the harbor tug-of-war will happen at a special time, due to the tides. It will take place on Saturday at 2:30.
Other exciting events include fireworks on Wednesday night, the lighted boat parade on Saturday night and the street parade on Wednesday afternoon. Times and more details for all Windjammer Days events can be found at windjammer days.org.
Windjammer Days is the first major event of the tourist season, and it represents both a chance for visitors to enjoy what this seaside community has to offer and the opportunity for businesses to benefit from the crowds. The crowds over the week number in the tens of thousands.
"We welcome lots of old and new faces to Boothbay Harbor," said Peter Ripley, president of Friends of Windjammer Days, the group that organizes the festival. "And because of the support of the business community, most Windjammer Days events are free."
For more information please visit https://www.boothbayharborwindjammerdays.org
Windjammer Days 2018 is presented by the Friends of Windjammer Days and, while new sponsors are coming aboard every day, these are the sponsors committed as of today: Giles Family, J. Edward Knight, Pine State Beverage, Knickerbocker Group, Pepsi, Carousel Marina, Linekin Bay Resort, Yale Cordage, Boothbay Harbor Marina, Suntory—Cruzan Rum, Compass Rose Events, Tugboat Inn, Fisherman's Wharf Inn, Boothbay Harbor Inn, Oceanside, Gimbel and Sons Country Store, Hodgdon Yacht, Southport Island Marine, Heddon Yacht Charters, Sea Tow, Nelson Family, Tindal and Callahan, Samuel Adams, Bristol Marine, Breakaway Charters, Herger3 Advertising and Design, Jansons, Capt. Fish Whale Watching, Getagadget, Lincoln Health, Ram Island Preservation Trust, Boothbay Harbor Electric, Valley Distributors/Bud Light, A Maine Wedding, Pinnacle Vodka, Braeon, Boothbay Harbor Country Club, Breakaway Fishing Charters, Nathaniel Wilson Sailmakers, Maine Magazine, Maine Home and Design, WHOM Radio, Yankee Magazine.
###