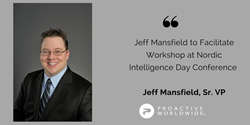 SCHAUMBURG, Ill. (PRWEB) April 30, 2018
Jeff Mansfield, PWW's senior vice president for consumer and industrial goods, will facilitate a round-table discussion entitled, "Amazon is expanding to Sweden – will we survive and if so how?" at the Nordic Conference for Market, Competitive, and Business Intelligence in Stockholm, Sweden on May 2, 2018.
Mansfield has strong backgrounds in both qualitative and quantitative research. His more than 13 years of experience in providing crucial decision support services give him a clear understanding of strategic planning, international business practices, and value-chain analyses across a wide spectrum of industries. His expertise extends to management of numerous global project configurations, including industry trends, logistics and distribution, project launches, private company profiles, pricing analyses, facility assessment, benchmarking, product development, supply-chain analyses, pre-merger and acquisition due diligence, and ongoing monitoring assessments.
Intelligence Day 2018 will focus on "Intelligence Work 2025: Innovation, Artificial Intelligence, and Collaboration." Intelligence Day 2018 is an extremely important event for those working professionally with competitive market and business intelligence in Scandinavia. It will be a day of interesting case presentations, interactive round-table and expert panel sessions, networking, and more.
About Proactive Worldwide
Proactive Worldwide, Inc. is a global research and strategic intelligence consulting company that provides evidence-based, constructive information within the competitive intelligence, market intelligence, and customer insights domains. Anchored by primary source research for over 22 years, Proactive's multilingual professionals assist our clients with offerings that include but are not limited to competitive research services, competitor assessments, market entry and defense strategies, war gaming simulations and scenario planning events, and customer experience and user experience studies. To learn more, visit http://www.proactiveworldwide.com
.