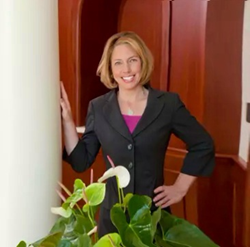 The promise of data bases that enable artists to sell their work without fear of piracy can change the face of art, removing the stigma of a 'starving artist'.
ST. PETERSBURG, Fla. (PRWEB) April 30, 2018
Technology and art have always been closely connected and today the dawn of blockchain is holding that theory together. Artists now turn to technology for both inspiration and a platform on which to share their work. In exchange, the world of technology has turned to artists and culture to find a way to evolve that meets the basic needs of humans.1 Jamie Moore Marcario, founder of Thrive Law, a St. Petersburg firm committed to artrepreneurs and entrepreneurs, enabling them to thrive, comments "from a business perspective any new technology that enables artists to do business and distribute their works while protecting their creative work is something of a triumph."
Blockchain, combining continuously growing lists of records called blocks with the ability amass them in a chain which can be distributed but not copied,2 could open revenue streams and build a reputation over time for visual artists. While the blockchain art revolution is only in its infancy and is by no means a sure thing, transitioning the art world to blockchain would be a boon for new creators.
For musicians a number of digital labs in the U.S. have a solution to blockchain's scalability issues; they use secure blockchain transactions to manage off-chain artifacts such as music files. For decades musicians have expressed frustration with large successful music distribution services who do little to support artists themselves. Marcario follows the developments of blockchain' use in the arts keenly, hoping to see positive effects.1
An outspoken attorney on piracy and intellectual property theft, Marcario, who supports the artist community in St. Petersburg and Tampa Bay, recently moved her firm to a property in the burgeoning arts community to reinforce her support for the industry that is credited with a $212 million economic impact in St. Petersburg and contributes so much to the economy in Tampa Bay and Florida.3 The law firm location in The Warehouse Arts District of St. Petersburg is an example of small businesses, artists and public officials working together to transform forgotten, blighted properties into a diverse community of artists and entrepreneurs through renovation, lighting, sidewalks and other improvements.4
St. Petersburg Mayor, Rick Kriseman, speaking at the recent ribbon cutting ceremony noted that the historic area is heralding "a really special time in the city…it's a history that's being rebirthed right now. The Warehouse Arts District and Deuces Live and the synergy between the two areas form what I think is going to be one of the coolest corridors in St. Petersburg." St. Petersburg Chamber of Commerce president and CEO, Chris Steinocher noted that the arts district is alive because "people like you are willing to make an investment in the community."
"Thrive Law is built on legal resources for artists and creatives that help them launch more quickly, compete strongly and achieve success on their own terms," added Marcario. "The promise of data bases that enable artists to sell their work without fear of piracy can change the face of art, removing the stigma of a 'starving artist'."
About Thrive Law
Thrive Law helps creatives and entrepreneurs overcome legal obstacles so that they can be free to do what they love—write, perform, act, paint, compose and innovate creatively. The firm, led by Jamie Moore Marcario, transforms artistic and entrepreneurial endeavors into an "artrepreneurial" business by identifying and protecting creative works. Leveraging its collective experience in the arts and intellectual property protection, Thrive Law identifies and safeguards trademarks and copyrights, while also navigating the maze of financial, tax and insurance details that often stymie and paralyze big ideas. Services are tailored to clients' needs and budgets, regardless of where they are in their business growth. For more information, contact http://www.thrivelaw.com
1. Kildune, Joe. "How Blockchain Technologies Will Empower Artists." Cryptoslate. 16 April 2018. Web.
2. What Blockchain Means for Small Artists." Coin Central. 8 April 2018. Web.
3. The arts are credited with a $212 million economic impact in St. Petersburg
Staff. "2015 St. Petersburg Arts & Culture Impact Report." Tampa Bay Businesses for Culture and the Arts. Web. (Staff)
4. Park, Mary Jane. "How Art Helps Tampa Bay Thrive." Warehouseartsdistrictstpete.org. 23 May 2017. Web.