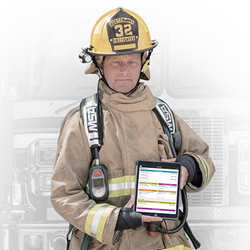 'The Aladtec system has saved our Captains significant time covering shifts.' -- Chief Shane Christensen, Leduc Fire Services, Alberta
TORONTO (PRWEB) April 30, 2018
Aladtec, Inc., the premier provider of online scheduling and workforce management solutions to 2,050 Public Safety agencies across Canada and the U.S. will be present May 4-5 as some 2,500 fire leaders and personnel gather to learn and review equipment and services at the International Centre in Mississauga.
Aladtec is the online scheduling solution of choice for 19 Canadian fire services along with 51 police, dispatch, EMS and health agencies. Aladtec's FIPPA-complaint production systems for Canadian customers are hosted in-country.
Conference attendees can discover how Aladtec has taken the stress out of scheduling staff, tracking certifications, streamlining trades, filling minimum staffing levels and eliminating paper from the firehouse.
"The full-time members like it a lot because they're now able to manage their hours better. A lot of the part-time and paid on-call staff love it too," said Jocelyne Monette, administrative assistant with Salt Springs (BC) Fire & Rescue. "That's your biggest claim to fame, is how easy it is to schedule and manipulate and move them around and send out alerts when you need coverage. I would recommend this to anybody."
"Now, everything here is running very nicely. The Aladtec system has saved our Captains significant time covering shifts," wrote Chief Shane Christensen of Leduc Fire Services, Alberta.
Aladtec software was specifically designed to handle the complex scheduling and unique shift rotations common to fire/rescue departments. The online system provides process automation, coverage alerts, time and attendance, staff messaging, minimum staffing controls, advanced reporting, payroll export, certification tracking, and the ability to attach files in its sophisticated Forms feature. All functions are accessible by smartphone, tablet or desktops with internet connectivity.
"I am grateful for this scheduling system," said Stew Schmidt, manage at Muskwachees Ambulance Authority, Hobbema, Alberta.
Conference attendees can visit with Aladtec representatives Pete Anderson and Moriah Boldon at booth #2018. They'll provide guided demonstrations of the system.
To learn more about the Aladtec now, or to sign up for a complimentary demo, visit http://www.aladtec.com, or call 888-749-5550 and a representative will explain all the program features.