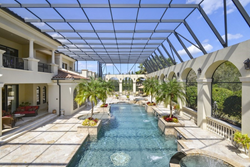 As we continue to grow, we look for partners that possess the same high standards as VHT Studios for quality, service and convenience -- Brain Balduf, CEO and co-founder, VHT Studios.
ROSEMONT, Ill. (PRWEB) May 01, 2018
VHT Studios, the nation's leading provider of professional photography, virtual staging and visual marketing services for real estate and businesses, announced the acquisition of Inviso USA, a central Florida company and provider of professional photography services to real estate professionals.
This latest move marks VHT Studios' third major acquisition in less than three years. The acquisition of Inviso USA brings additional strength to the already prominent presence of VHT Studios throughout Florida.
The added skill and expertise of the Inviso USA team, combined with the strengths of VHT Studios' Florida team, will offer even greater and deeper services and accessibility for VHT Studios' clients. Florida real estate and business professionals now can take advantage of professional photography for residential and commercial property spaces at all price points, from starter homes and condominiums to luxury estates and everything in between.
To meet the growing and diverse needs of residential and commercial real estate and other business professionals, the acquisition combines the talents of the two largest real estate-focused photographer networks in Florida. Existing Inviso USA clients will immediately benefit from the deep and wide variety of VHT Studios' photography and visual marketing offerings and resources.
(Editors: High resolution, downloadable photographs of VHT Studios' real estate photography can be accessed through this gallery link: https://tour.vht.com/433721477)
"We warmly welcome Inviso clients and photographers to our growing company," said Brian Balduf, CEO and co-founder, VHT Studios. "With our combined talent base, we are providing even more services to the thousands of Realtors® across the state of Florida, as well as the entire Southeast region. As we continue to grow, we look for partners that possess the same high standards as VHT Studios for quality, service and convenience."
VHT Studios' proprietary platform for the production and management of visual marketing assets helps both photographers and real estate professionals get the best return on their efforts and investments. Real estate professionals can devote more time to their clients and avoid the hassle of uploading their photographs and other digital assets to their web sites, advertisements and other marketing materials.
"VHT Studios and Inviso USA both value excellent imagery and technology as integral to remaining ahead in the real estate photography industry," said Claus Madsen, CEO, Inviso USA. "With our shared values, I am confident that VHT Studios will carry on and expand the service levels our clients have come to depend on. With VHT's outstanding track record of growth and commitment to excellence, we are extremely pleased knowing our clients and photographers will be in great hands with the real estate photography industry leader."
VHT Studios is working diligently to transition Inviso USA photographers and clients into the VHT Studios' family, to smoothly integrate and expand service offerings and client support teams for continued excellence and exceptional service in Florida in 2018 and beyond.
In 2015, VHT Studios acquired Gotham Photo Company, New York City's largest photography company, and on January 5, 2018, acquired the photography business of Circlepix, another real estate photography company with prominence in the western states.
About VHT Studios
VHT Studios, the industry founder, celebrates twenty years of serving real estate and business professionals. Since 1998, VHT has delivered excellence in professional photography, virtual tour videos, virtual staging, interactive and standard floor plans, drone photography and video, 3D home tours, and image management services to top professionals looking to become even more successful. VHT Studios' services ensure properties get seen more, sell and rent faster and at a greater price, which also helps attract new clients. A full-service partner to leading real estate agents, brokerages and businesses, the VHT Studios team delivers the most powerful marketing and selling tools – starting with high-quality photography -- through creation and final display.
With an unrivaled nationwide network of the top professional photographers and image specialists, VHT Studios' programs are an affordable, valuable investment for real estate agents, who expect their listings to be seen whenever and wherever homebuyers search, and for brokers looking to recruit and retain top agents. Based in Rosemont, Illinois, VHT Studios has photographed more than 10 million rooms and helped more than 200,000 real estate and business professionals sell and rent more than $200 billion in properties since the company's founding. For more information, visit VHT on the web, on Facebook, Instagram, Twitter, or LinkedIn.