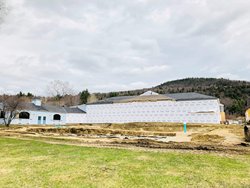 Coming Soon, Living Shores Aquarium, the newest hands-on experience in New England! Spend your day creating exciting new memories all while learning about marine life and their habitats.
GLEN, N.H. (PRWEB) April 30, 2018
Coming soon, Living Shores Aquarium, an indoor, hands on experience for kids and adults alike! Touch Sting Rays, feed Tropical Birds, pet Chain Catsharks and so much more!
Living Shores Aquarium is coming soon. Main exhibits will feature Sting Rays, Lorikeets, Chain Catsharks and Cleaner Fish along with tropical reef and local ecosystem exhibits. Guests will have the opportunity to interact through touch tide pools and a fully immersive aviary where you can feed Lorikeets.
"We are thrilled to bring an all new indoor, hands-on experience to the area," said Eric Dziedzic, General Manager of Story Land and Living Shores Aquarium. "Marine life education and conservation is extremely important and we hope to provide an avenue to learn, interact and appreciate the bodies of water and the species that surround us."
Living Shores Aquarium will also offer a full retail shop and a 150 seat Italian style restaurant, Pasta Mia. Pasta Mia will be a family friendly, quick service restaurant with both indoor and outdoor patio seating. Both Living Shores Aquarium and Pasta Mia Restaurant will operate year round once open.
Living Shores Aquarium, just steps from Story Land, is the newest Palace Entertainment Attraction. With over 32,000 sq. ft. of tide pools, hands-on exhibits and educational experiences you will spend your day interacting with marine life from a variety of habitats. Living Shores Aquarium is located on Route 16, in Glen, NH…just steps from Story Land. For more information and to stay up-to-date on progress, follow us on https://www.facebook.com/StoryLandNH/ or visit http://www.LivingShoresAquarium.com
About Story Land
Story Land, a Palace Entertainment park, is one of the premier family attractions in New England. Story Land is a children's theme park that has entertained thousands of families with young children for over 60 years. Story Land, founded in 1954 is located on Route 16, in Glen, NH. For more information, call (603) 383-4186 or visit storylandnh.com, facebook.com/storylandnh.
About Palace Entertainment
Palace Entertainment is one of the leading leisure park operators in the United States and is owned by Parques Reunidos. With parks located in 10 states, Palace Entertainment continues its expansion of brands within the family entertainment sector. Parks include Kennywood amusement park in Pennsylvania, Noah's Ark water park in Wisconsin, Splish Splash Water Park in New York, and Raging Waters in California, among many other family favorite destinations. Parks provide family oriented and affordable attractions to visitors of all ages, offering a wide range of attractions, such as roller coasters, Ferris wheels, live shows, variable depth pools, water slides, animal shows, miniature golf courses and arcade games.