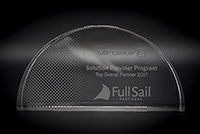 Full Sail Patners' Blackbox Connector integration for Deltek Vision along with their team of experienced professionals led us to numerous customer wins and pipeline growth in a previously untapped market. - Chris Llorente, Head of American Solution Providers as SAP Concur
STEAMBOAT SPRINGS, Colo. (PRWEB) April 30, 2018
Full Sail Partners is honored to be the recipient of the Solution Provider Program Top Overall Partner 2017 award and the App Center Partner of the Year 2018 Newcomer Award from SAP Concur at their annual Fusion Conference in Seattle. Over the last few years, Full Sail Partners and SAP Concur have been diligently working together to provide Blackbox Connector solutions to their mutual Deltek Vision clients.
"Due to the amazing support of the partner teams at SAP Concur and our own incredible Blackbox Connector team at Full Sail Partners, we have been able to provide some fantastic solutions to our clients. It has been a great year and I look forward to a bright future with Blackbox Connector and SAP Concur," noted Tanya Drake, Director of Add-on Technology sales at Full Sail Partners.
SAP Concur is the world's leading provider of integrated travel, expense management, and AP invoice automation services and solutions. Deltek Vision is a leading enterprise software solution designed for project-based professional services firms to improve business performance, streamline operations and win new business. The Blackbox Connector offering by Full Sail Partners allows Deltek Vision users to connect their Vision systems to other third-party software solutions like SAP Concur and streamline business operations.
Full Sail Partners was also given the App Center Partner of the Year 2018 Newcomer Award. Both the Deltek Vision to SAP Concur Expense and SAP Concur AP Invoice Blackbox Connectors are available in SAP Concur's App Center. The SAP Concur App Center offers apps which integrate with Concur Travel, Expense and AP Invoice products. For more information, visit https://www.concur.com/app-center.
"Full Sail Partners has proven to be an outstanding and valued partner to SAP Concur. Full Sail Patners' Blackbox Connector integration for Deltek Vision along with their team of experienced professionals led us to numerous customer wins and pipeline growth in a previously untapped market," stated Chris Llorente, Head of American Solution Providers as SAP Concur.
For more information about SAP Concur Connectors, please visit Full Sail Partners' Blackbox Connector website http://www.blackboxconnector.com/.
About Full Sail Partners
Full Sail Partners provides client-focused technology services and solutions for more than 1,000 professional services' firms nationwide. As a SAP Concur and Deltek Platinum Partner, Full Sail Partners helps project-based firms fully integrate their business processes by connecting their front end and backend systems. We seek to help organizations identify the critical resources needed to create a faster, more efficient, and cohesive business infrastructure.
Full Sail Partners – Keep Your Business on Course. | For more information, please email Full Sail Partners' Marketing Communications Department or visit the Full Sail Partners' website at http://www.fullsailpartners.com.