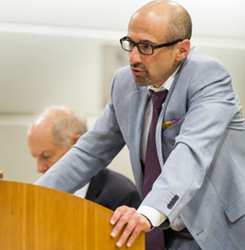 LOS ANGELES (PRWEB) April 29, 2018
Dmitry Gorin, a former sex crimes prosecutor in the Los Angeles County District Attorney's Office and a criminal defense attorney discussed the verdict on National Public Radio. Listen to interview here.
Entertainer Bill Cosby was convicted of drugging and molesting a woman in the first big celebrity trial of the #MeToo era of awareness about sexual assault and harassment. The jury concluded he sexually violated a Temple University employee at his home in 2004. She was the only woman among dozens who pursued criminal charges against the comedian. Mr. Cosby is one of the nation's most admired actors widely known for his role in the 1980's popular program "The Cosby Show." He was described in the Philadelphia courtroom as a sexual predator and deviant during his trial. Prosecutors claimed he was a "con artist" who used his television image to trick victims to trust him so he could drug them. Six women testified in detail about Mr. Cosby drugging them in separate incidents from the 1980's until 2004. The conviction comes in a retrial of a 2017 case where a mistrial was declared. No sentencing date has been set.
Dmitry Gorin is a partner at Eisner Gorin LLP, a Los Angeles-based law firm with an AV- Preeminent* Rating (Top 5% U.S. Law Firm) specializing in criminal defense. He has been selected to Best U.S. Lawyers 2017 and aggressively represents clients against sex crimes, theft crimes, domestic violence, drug crimes, and fraud crimes.
For more information, visit us online at https://www.egattorneys.com