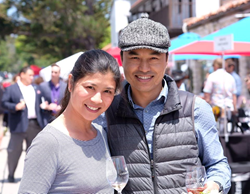 Carmel-by-the-Sea, CA (PRWEB) April 29, 2018
Enjoy the incredible wines and culinary abundance from one of the world's premier wine regions at the 26th Annual Monterey Winemaker's Celebration set in the quaint village of Carmel-by-the-Sea. The main event of this iconic food and wine festival, now in its 26th year, is on May 5th from 1:00 - 4:00 pm (with early access for VIP's).
Both the experienced wine lover and the newcomer will enjoy the celebration hosted by the Monterey County Vintners & Growers Association.

Over 100 exquisite wines representing AVA's from throughout Monterey County including Arroyo Seco, Carmel Valley, Chalone, Monterey, San Antonio Valley, and the Santa Lucia Highlands
Small bites highlighting locally sourced ingredients from our favorite local chefs
Have your picture taken with one of the owls and falcons that help protect our grapes from pests
Monterey Wine Camp Educational experiences: wine appreciation, winegrowing, and winemaking
Live jazz with Eddie Mendenhall and John Wiitala
May is Monterey in Monterey Wine Country. In addition to the 26th Annual Monterey Winemakers' Celebration on Saturday, May 5th, guests are invited to explore and enjoy other wine and culinary experiences throughout Monterey County during the first week of May. These include Monterey Wine Camp workshops, the documentary America's Wine: The Legacy of Prohibition, local restaurants featuring menus paired with Monterey wines, special wine tastings, live music, and more.
WHAT: 26th Annual Monterey Winemakers' Celebration
WHEN: Saturday, May 5th, 1:00 - 4:00 pm (Main Event)
WHERE: Carmel-by-the-Sea: Dolores Streets & 7th Street
TICKETS: $75 per person Main Event; $125 per person VIP (includes early entry, valet parking & a viewing pass to America's Wines: The Legacy of Prohibition movie)
INFORMATION & TICKETS: MontereyWines.org
Tickets are limited and expected to sell out. This is a strictly 21+ event. No pets allowed (sorry we love them, but it's the law).
WINERIES
Albatross Ridge ● Bernardus Winery ● Big Sur Vineyards ● Blair Estate Wines ● Caraccioli Cellars ● Carmel Ridge Winery ● Carmel Road ● Chalone ● De Tierra Vineyards ● Estancia Estates Winery ● Folktale Winery & Vineyards ● Hahn Family Wines ● Holman Ranch ● I. Brand & Family Wines ● J. Lohr Vineyards & Wines ● Joyce Vineyards ● La Crema ● Mark West Wines ● Michaud Vineyard ● Odonata Wines ● Paraiso Vineyards ● Pessagno Wines ● Pierce Ranch Vineyards ● Puma Road ● Rexford Winery ● Robert Mondavi Winery ● Scheid Vineyards ● Scratch Wines ● Seabold Cellars ● Shale Canyon Wines ● Silvestri Vineyards ● Smith Family Wines ● Talbott Vineyards ● Testarossa Winery ● Wente Vineyards ● Windy Oaks Estate ● Wrath Wines
CULINARY TALENT
Aabha Indian Cuisine ● Basil Seasonal Dining ● Cantinetta Luca ● Carmel Honey Company ● Fandango Restaurant ● Il Tegamino ● Krua Thai ● La Balena ● La Bicyclette ● Lafayette Kitchen & Cafe ● Muligan Public House ● Nothing Bundt Cakes ● Olivier By The Sea ● Percy's Pies ● Roux ● Seventh & Dolores ● Trio Olive Oil ● Village Corner ● Ventana