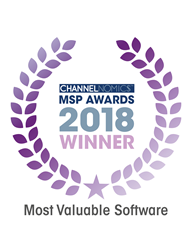 "Thank you to Channelnomics for recognizing the value of Auvik and the services we provide to our partners as we grow our businesses together." - Alex Hoff, Auvik VP of product and sales
WATERLOO, Ontario (PRWEB) April 30, 2018
Auvik Networks, a provider of network monitoring and management software for IT managed service providers (MSPs), was named Most Valuable Software at the 2018 Channelnomics MSP Awards.
The award recognizes an IT channel software vendor dedicated to supporting the growth of MSPs through a combination of outstanding product, service, channel programs, and business partnering.
"With Auvik, MSPs are able to proactively spot and respond to network issues before clients know about them, provide strategic guidance to evolve networks to meet clients' business needs, and minimize network risk—which gives clients peace of mind and builds trust," says Alex Hoff, VP of product and sales at Auvik. "Thank you to Channelnomics for recognizing the value of Auvik and the services we provide to our partners as we grow our businesses together."
Founded in 2011, Auvik is network management for MSPs. The cloud-based software provides instant insight into client networks, and automates complex and time-consuming network tasks such as network mapping and device configuration backups. It helps service providers manage network infrastructure like they manage endpoints and servers today.
"It isn't easy to be a leader in today's crowded marketplace," said Jessica Meek, editor of Channelnomics. "Vendors need to offer significant support—not to mention innovative, best-of-breed technology to their partners to help them navigate these over-populated waters."
Channelnomics, a U.S. news outlet covering the IT channel, hosted its inaugural MSP Awards on April 26 in New York City.
About Auvik Networks
Auvik's cloud-based software simplifies and automates network monitoring and management for IT managed service providers. Auvik gives MSPs better visibility, documentation, and monitoring for their client networks, and automates many time-consuming network tasks. With Auvik, MSPs have an efficient and profitable way to manage their client networks. Visit http://www.auvik.com or follow @AuvikNetworks on Twitter. Auvik is a registered trademark of Auvik Networks Inc.
Media contact
Sarah Cunningham-Scharf
Marketing Content Specialist
sarah(at)auvik(dot)com
519-804-4700 x194