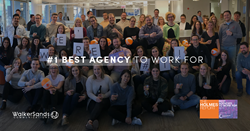 CHICAGO (PRWEB) April 30, 2018
Walker Sands, an integrated PR and digital marketing agency for B2B tech and professional services companies, has been named Best Agency to Work For (71-120 employees) by The Holmes Report. The B2B tech agency was recognized for its growth, award-winning work and engaged company culture.
The Holmes Report's Best Agency to Work For is awarded to agencies that take culture seriously, attract and retain smart and creative talent and create amazing work. The firms recognized in this list offer generous benefits, prioritize professional development and facilitate interesting work that keeps talent engaged. As a leader in PR, social, and search strategy, Walker Sands was selected as a top choice out of nearly 150 submissions and 50 face-to-face meetings with the best PR firms across North America. The awards for the top ranking agencies will be presented at the 2018 North American SABRE Awards in New York on May 1.
"We're extremely proud of the culture that we've cultivated at Walker Sands," says Ellen Hanson, COO of Walker Sands. "We take great strides to make sure that everyday, our employees are excited to come to work, engaged with what they're doing, and feel empowered to pursue personal passions and interests. Our employees have really shaped our culture into what it is and have enabled it to continue to grow. We're excited to continue to embrace our culture as a bedrock of our company, and this recognition is truly a testament to how far we've come."
Walker Sands has spearheaded many cultural initiatives around diversity and inclusion, philanthropy, recreation, educational advancement and much more that have contributed to its unique place within the Chicago and PR community. To make sure it's always improving and keeping employees top of mind, the firm keeps a weekly pulse on how employees are feeling about the organization, and offers the ability to ask questions and receive transparent answers in return at anytime. So far in 2018, Walker Sands has been named the No. 13 company in Crain's 2018 Best Places to Work in Chicago list and shortlisted as a Tech Agency Of The Year with The Holmes Report.
"We've taken notice to Chicago's Walker Sands for its respectable growth, combined with award-winning work — and its engaged culture," furthers Aarti Shah, COO & Senior Editor at the Holmes Report. "The 17-year-old firm is particularly progressive around diversity and inclusion, which includes several initiatives, like bringing in Xavier Ramey to speak and Unconscious Bias training from Pooja Kothari. There's a fun element to this as well. This year, the firm purchased 20 tickets to Black Panther and had a lunch discussion on the film the following day."
"It's a great honor to be recognized as as a best place to work in the small agency category," says Mike Santoro, President of Walker Sands. "The agency world is a very competitive landscape, and to be able to stand out among so many others is just another reason I'm so proud to be working with all the people we do. Every person who works at Walker Sands truly embraces our core values of 'learn, support, do,' and that's what has made it possible for us to stand out."
For more information about Walker Sands, visit http://www.walkersands.com.
About Walker Sands
Walker Sands is a public relations and digital marketing agency for business-to-business technology companies. With an integrated approach to creative services, Walker Sands helps clients build brand awareness, enhance credibility and drive new business. Walker Sands is a five-time Inc. 5000 honoree and regular recipient of some of the industry's most prestigious awards from organizations including Entrepreneur, Holmes Report and Hermes Creative. Walker Sands was founded in 2001 and has offices in Chicago, San Francisco and Seattle. To learn more, visit walkersands.com or walkersandsdigital.com.