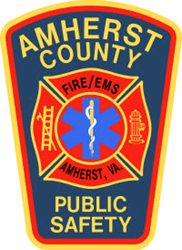 I was tracking 40 employees' leave on manual spreadsheets, so it's been a huge time-saver. -- Linda Martin Warner, Dir. of Human Resources
AMHERST, Va. (PRWEB) May 01, 2018
"God's country. That's how many people describe Amherst County.
"Natural beauty, low business and living cost, and its convenient location all add up to a great place to live and work," declares the introduction on AmherstVAbusiness.com, website for the region's economic development agency.
Amherst County citizens would likely include "reliable public safety agencies" and "efficient public services" as essential elements of a "great place".
A cloud-based software program appears to be helping three units of county government achieve those goals.
Two wings of Amherst County public services recently began using scheduling software to buttress around-the-clock coverage by the sheriff's department and steamline work conditions for 40 full-time county employees. Medics and firefighters who staff Amherst's Public Safety department were already using the platform.
Amherst County Public Safety first came across Aladtec cloud-based software in early 2017 when IT director Jackie Viar saw it mentioned on a website. She then contacted agencies in several neighboring Virginia communities which used the digital platform for scheduling dispatchers, paramedics and firefighters, and filling open shifts.
Previously, all schedules were worked out on paper and staff would have to visit the Amherst station to learn when they worked. Supervisors can now schedule 24/7 firefighter-paramedic coverage at the Amherst, Pedlar and Monelison stations for months in advance.
To fill a shift due to an illness or vacation, Viar or another administrator can send out a "coverage alert" message to members, who can reply immediately from a smartphone, desktop or a Toughbook computer on-board the ambulance. Features in the software also allow supervisors to track professional certifications, e-mail or text announcements, and create customized forms and reports.
The system has eliminated employee allegations of favoritism that a medic or firefighter grabbed an open shift before others knew it was available. And staff appreciate being able to view schedules via their smartphone or the computers in trucks or at the stations, Viar said.
Months later, Aladtec was among several vendors county administrators considered in their search for an efficient program track vacation accruals and eliminate paper timesheets.
Linda Martin Warner, Director of Human Resources for the county, said the scheduling function isn't as important for county employees who work conventional hours.
Leave accruals and timesheets "are probably the only two functions we'll probably ever use," she said. Because regular county employees don't work shifts, like deputies and EMS staff, "we are able to be much more flexible than those in the public safety organizations."
Had Amherst County opted for a different system, some 50 public safety workers would have had to enter time sheets into separate systems. "I did not want that to happen," said Warner.
Just two months into the implementation, she says the Aladtec tools are saving her time.
"I was tracking 40 employees' leave on manual spreadsheets, so it's been a huge time-saver. I would spend hours on those spreadsheets every week so it certainly has cut that time in half.
"And also, our employees have the ability to see their leave balances in real time, 24/7, and that's a huge benefit, because they were having to wait on me to update their spreadsheet and sometimes, it could take months," said Warner.
Using a smartphone or desktop computer to file timesheets is new to many employees, but "I think in another month everything will have shaken out," said Warner. "We still have a few little glitches that we're cleaning up."
In an e-mail message, County Administrator Dean Rodgers said the County is "using the software as an interim measure until we completely replace our accounting suite. When that occurs we will adopt a software platform that includes ALL the employee recordkeeping requirements.
"As a one-person HR department, Linda was overwhelmed with all the record-keeping and Aladtec is able to do a portion of it for her. It is not a complete solution. It was chosen because our Public Safety staff was already using it and was familiar with it. Having some of the staff familiar made it possible to reduce somewhat the total anxiety of a new system," Rogers noted.
Other area agencies using Aladtec include the Waynesboro First Aid Crew, Bedford Life Saving Crew, Bedford County Fire & Rescue, Scottville Volunteer Rescue Squad, Botetourt County Emergency Services, Moneta Rescue Squad, Chamblissburg Rescue Squad, UVA Medical Communications Center, Hardy Life Saving Rescue, Inc., and Lake Monticello Volunteer Fire Dept. & Rescue Squad, Inc.
_______________________
Aladtec provides online employee scheduling and workforce management software for mission-critical agencies such as EMS, firefighters and law enforcement. The smart platform puts real-time staff scheduling, time and attendance in the palm of your hand. It tracks licensing and certifications, offers customizable forms and reporting and allows leaders and members to communicate instantly, saving time and money. For more information, visit http://www.aladtec.com, or call 888-749-5550.