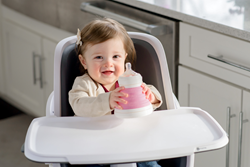 We're excited that crowdfunders are supporting CollapseAndGo as a must-have solution for on-the-go parents.
BALTIMORE (PRWEB) April 27, 2018
Collapsabottle and Collapsacup, the world's first fully-collapsible baby bottle and sippy cup, are a big hit with crowdfunding parents – who have helped the CollapseAndGo team surpass its campaign goal by investing more than $15,000 for the new products on Kickstarter.
"We're excited that crowdfunders are supporting what we believe to be a must-have solution for on-the-go parents," said CollapseAndGo Co-founder Lauren Shapiro. "Any parent who has bottle-fed children understands the challenges that go along with it – bulky bottles with multiple components can be difficult to carry, store and clean. We designed our solutions to be collapsible, stackable, dishwasher-safe, and offer interchangeable lids, so they can grow with children. With Collapsabottle and Collapsacup, you can start with them and call it a day."
Shapiro and her husband came up with the idea for the new products while traveling and realizing just how much space bottles took up when on-the-go. They were shocked when they were unable to find collapsible baby bottles and sippy cups on the market and decided to take it into their own hands.
"We were surprised nothing was available on the market, especially something that would save so much space for parents when carrying and storing baby gear," she said.
Designed in an organic shape that resembles the natural shape and feel of a mother, both the Collapsabottle and Collapsacup can be collapsed to the size of a hockey puck and stack on top of each other. Parents can also reduce the size of the bottle as a baby drinks to reduce the baby's air intake, which can minimize gas and discomfort – one of the most common bottle-feeding issues for infants.
CollapseAndGo bottles and sippy cups are made from the best quality silicone, which is odorless, tasteless and mold- and bacteria-resistant, to ensure they won't stain, cloud, or seep harmful chemicals. They have passed the most rigid food-safety testing standards, and are BPA-, PVC-, lead- and Phthalate-free, making them "100-percent safe" for children. Additionally, the bottles and cups can handle boiling water when its necessary to heat up baby formula or milk for children.
Both solutions also come with handle attachments to make it easy for older babies to hold.
For more information, or to pre-order Collapsabottle and Collapsacup at an early-bird crowdfunding price of $12 each, visit the CollapseAndGo Campaign Page on Kickstarter.
About CollapseAndGo
Newborn parents Matthew Mittleman and Lauren Shapiro developed CollapseAndGo products as an added convenience for on-the-go parents. With diaper bags over-flowing and cluttered cabinets, the couple searched for collapsible baby bottles and sippy cups, only to realize they weren't available on the market. From there, the new collapsible, top-of-the-line CollapseAndGo baby bottles and sippy cups were designed, tested and introduced for parents and their infants and toddlers. For more information about CollapseAndGo, visit the company's campaign page on Kickstarter.