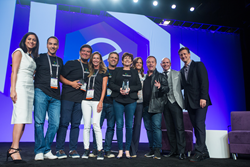 FORT LAUDERDALE, Fla. (PRWEB) April 30, 2018
Xendoo, a South Florida-based tech company within the accounting space has won this year's prestigious eMerge Americas technology competition.
eMerge Americas is an internationally recognized technology conference connecting best-in-class innovations from North America, Latin America and Europe. The competition featured over 110 tech companies from around the world.
Xendoo, who provides cloud-based accounting and bookkeeping services to small businesses, pitched to over two-hundred potential investors and industry experts over the two-day event. The competition culminated in a Shark Tank-like setting where Co-Founder, Lil Roberts competed on the mainstage for industry leaders and judges Jason Calancanis, Pitbull and Gil Beyda.
In addition to the prestigious award and prizes valued in the hundreds of thousands of dollars, Jason Calancanis, internet entrepreneur and author, offered a $100,000 investment with an invitation to his exclusive Silicon Valley incubator.
"We are extremely grateful to the Medinas and the eMerge organization. They've put the South Florida startup community on the map," Roberts says.
Roberts and Co-Founder Steve Gelley formed the company in late 2015 with a mission to "reshape an industry," states Roberts. "We're changing the relationship people have with getting their bookkeeping and accounting done."
Roberts and Gelley, sharing a passion for small business, realized the need to leverage technology in order provide the tools small business owners need to successfully run their business. Proprietary workflow technology allows Xendoo to 10x the productivity of its accounting team, giving small business owners unprecedented speed and price.
About Xendoo:
Xendoo is a cloud-based monthly subscription providing bookkeeping and CPA services to small business owners. They are reshaping the accounting industry by leveraging technology to provide unprecedented service, efficiency and accessibility. Their low, flat monthly rate packages include weekly bookkeeping, unlimited tax planning, and a year-end corporate tax return.