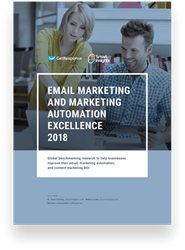 "Small businesses tell us they see the value of marketing automation's time-saving abilities but they're not maximizing it to grow their business, and that has to change," said Mike Morris, head of GetResponse U.S. "The easier we make it, the more value small businesses will realize."
BOSTON (PRWEB) April 30, 2018
In honor of National Small Business Week, GetResponse, the all-in-one online marketing platform, released its annual Email Marketing and Marketing Automation Excellence Report in conjunction with SmartInsights.com and the results demonstrate the continued influence of email marketing for small businesses. Forty-seven percent of small businesses surveyed say email marketing delivers the best ROI, with social media marketing coming in a close second at 30 percent. Small businesses, however, are struggling to realize the full potential of marketing automation, with only 21 percent rating their use of marketing automation as "high" or "good."
Marketing Spends Are on the Rise
Close to half (47 percent) of survey respondents are increasing their email marketing spend from 2017. Other areas seeing a budget increase from small businesses:

41 percent Social media marketing
37 percent Content marketing
33 percent Search engine optimization (SEO)
The largest decreases were found in the areas of direct mail (9 percent) and display advertising (8 percent).
SMBs Need to Build Marketing Automation Skill Set
When it comes to using all the features and capabilities of marketing automation, small businesses are falling short. Here is how they rated their effective use of marketing automation for their business:

8 percent High: use all features and optimize them to get the best results
13 percent Good: use the majority of features but need to optimize them
18 percent Intermediate: use some features but need to build our capability
16 percent Moderate: use the core features
28 percent Basic: don't use many of the features of marketing automation
19 percent Don't use marketing automation
In terms of the kinds of automation small businesses are gravitating to, the vast majority (65 percent) use email automation for tasks like welcome sequences and customer onboarding. Twenty-six percent use it for basic profile-based targeting and 23 percent use it for personalization with dynamic content.
"Small businesses tell us they see the value of marketing automation's time-saving abilities but they're not maximizing it to grow their business, and that has to change," said Mike Morris, head of GetResponse U.S. "Marketing automation can have a profound impact on revenue, so GetResponse is working to gain small businesses adoption with education and product enhancements like our recent launch of automated workflow templates. The easier we make it, the more value small businesses will realize."
Other key findings include:

Email marketing success is still largely measured by opens and clicks (63 percent), followed by mid-funnel outcomes such as leads generated from form-fills, and registrations (27 percent). Surprisingly, 28% don't track any metrics.
Small business marketers are not delivering targeted messaging, with 53 percent delivering the same message to everyone on their lists.
Over half are not proactively testing their email marketing (60 percent). Those that do use testing and optimization focus on testing offers, layouts, creative and copy (20 percent) subject lines (16 percent), and frequency (11 percent)
Automated emails are largely used for welcome emails (47 percent) and promotional sales-focused email campaigns (46). Just over a quarter (28 percent) are used for transactional emails.
Resources
Also in celebration of Small Business Week, GetResponse is offering new customers a 20% discount on the PRO package. For those interested in downloading the complete Email Marketing and Marketing Automation Excellence Report, they can click here.
About the Survey
GetResponse and SmartInsights.com administered the survey in February-March of 2018 to 500+ small businesses and entrepreneurs primarily in the U.S. and the U.K. Results include responses from respondents across a range of business-to-consumer and business-to-business industries.
About GetResponse
GetResponse is an all-in-one online marketing platform for SMBs, with more than 350,000 active users from 182 countries. GetResponse delivers more than 1 billion permission-based emails per month, with an average deliverability rate higher than 99 percent. For more information, visit: http://www.getresponse.com.