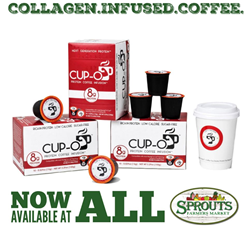 "CUP-O Protein's national distribution with Sprouts marks an exceptional year for our brand," says Donna McReynolds-Sanchez, Founder of CUP-O Beverages, LLC
SCOTTSDALE, Ariz. (PRWEB) April 30, 2018
CUP-O Beverages, LLC (Wyoming) (the "Company" or "CUP-O")
CUP-O Protein Coffee Infusion™, the world's first Coffee Pods to deliver a patented blend of taste-free, odorless, silky collagen protein and a smooth, dark roasted, drip-brewed coffee, is now available nationwide in Sprouts Farmers Market. The Sprouts launch celebrates the company's first national retailer partnership and significantly increases CUP-O Protein's presence across several key markets, including Phoenix, Los Angeles, San Diego, San Francisco, Las Vegas, Dallas, Denver, and Atlanta.
"CUP-O Protein's national distribution with Sprouts marks an exceptional year for our brand", says Donna McReynolds-Sanchez, Founder of CUP-O Beverages, LLC, "Our first batch of product rolled off the assembly line at the end of March 2017 and within a year's time we secured shelf space within nearly 400 grocery stores and online distribution with COSTCO.com. We were also extremely fortunate to be featured in the April 2018 issue of Muscle & Fitness magazine. It's been an incredible journey!"
CUP-O Protein Coffee Infusion™ was formulated especially for single-serving brewed coffee machines to quickly deliver 8 grams of taste-free, odorless, silky protein through a smooth, heavy bodied dark roast coffee and packaged in recyclable pods. CUP-O's flavor is rich with notes of toasted nuts and a chocolatey aroma, providing consumers a hot, delicious, and convenient resource for energy, muscle growth/recovery, stamina, and improved focus, unlike anything that's been on the market.*
CUP-O Protein™ has a range of health benefits due to its unique combination of premium collagen and coffee. CUP-O™ helps reduce skin dryness, wrinkles, and cellulite, and increases skin firmness, hydration, and moisture. CUP-O™ also supports the growth and health of your fingernails, curbs appetite to assist in weight management, helps improve athletic performance, increases lean body mass, and aids digestion and healthy aging.* Beauty coffee? Fitness coffee? Diet coffee? Whatever you want to call it, we call it CUP-O Protein™.
About CUP-O Protein Coffee Infusion™
CUP-O Protein™ was developed by Donna McReynolds-Sanchez, a 17-year beverage industry veteran, and her husband Toby Sanchez, a former minor league baseball player, business owner, and entrepreneur. Donna was working for an RTD protein shake company when the idea for CUP-O Protein™ was born. Donna would drink her coffee made in a Keurig® every morning, but she was not a fan of eating breakfast foods.
Because she felt her body required more sustenance than what her coffee provided, she would reluctantly chug one of the protein shakes she was selling but quickly grew weary of drinking them due to their cold temperature and poor after-taste. Donna soon realized that she desired something both hot and nourishing to drink in the morning. Out of sheer frustration, Donna began grumbling how she merely wanted to be able to have a hot cup of fresh drip brewed coffee that also provided protein to keep her fuller longer. The couple quickly learned that nothing like this existed on the market, in fact, they discovered that there was less than 4% innovation in what was a $4.5 billion-dollar category. After the nutraceutical formulator hired by the Sanchez's couldn't figure out a way to fulfill their vision, the company told them "It can't be done…If the Big Guys could do it, it would have been done by now." Donna encouraged Toby to bring the formulation research and development in-house, literally.
After 14 months of great trial and error in their Scottsdale, Arizona kitchen, the self-proclaimed "mad scientists" finally found their eureka formula and celebrated what was to become a truly unique innovation for single-serving coffee pods which was later awarded a Patent. Now CUP-O Protein Coffee Infusion™ leads the way in carving out an entirely new category of Enhanced Coffee Pods.
About Sprouts Farmers Market
Sprouts Farmers Market, Inc. specializes in fresh, natural and organic products at prices that appeal to everyday grocery shoppers. Based on the belief that healthy food should be affordable, Sprouts' welcoming environment and knowledgeable team members continue to drive its growth. Sprouts offers a complete shopping experience that includes an array of fresh produce in the heart of the store, a deli with prepared entrees and side dishes, The Butcher Shop and The Fish Market at Sprouts, an expansive vitamins and supplements department and more. Headquartered in Phoenix, Ariz., Sprouts employs more than 28,000 team members and operates nearly 300 stores in 16 states from coast to coast. Visit about.sprouts.com for more information.
*These statements have not been evaluated by the Food and Drug Administration. This product is not intended to diagnose, treat, cure or prevent any diseases. CUP-O Beverages LLC is not affiliated with Keurig, Inc. "Keurig®" and "K-Cup®" are registered trademarks of Keurig, Inc.