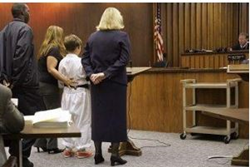 But there was trouble in this juvenile paradise: in the 50s and 60s, questions grew over the wide disparities in treatment that resulted from the unlimited discretion of juvenile courts.
WHEATON, Ill. (PRWEB) April 30, 2018
My home state of Illinois played a pivotal role in the founding of the modern American juvenile court system.
That's because, on April 21, 1899, the State of Illinois created the country's first juvenile court when it organized the Juvenile Court Division of the Circuit Court for Cook County. This landmark legislation was the culmination of many decades of pioneering work by lawyers, judges, social workers and religious leaders searching for a more humane way to treat "wayward" youth. Instead of shaming and punishing these youthful offenders (16 and under), the goal became to turn their lives around -- to truly "correct" their life course and reform them into productive, law-abiding citizens.
The goal was admirable -- even noble. The early juvenile court took as its inspiration the English common law parens patriae—or "the state as parent"—philosophy which afforded it broad discretion and sweeping powers to provide guidance and programs custom-designed for each youth.
Because this system was deemed civil, and not criminal in nature, it required only cursory legal proceedings with no attempt at due process. What's more, there was no role for a juvenile criminal defense attorney because the court was always envisioned as acting in the best interests of the child, who needed no defense from its benign power.
All seemed well for awhile. For the first time "detained" (not "jailed") youth were separated from imprisoned adults and placed in "reform" schools, where they were taught various industrial skills, as well as healthy living habits. Some youthful offenders were even placed in private foster homes. This experiment was quickly adopted by other jurisdictions such that, by 1925, some form of juvenile court existed in all but two states.
But there was trouble in this juvenile paradise: in the 50s and 60s, questions grew over the wide disparities in treatment that resulted from the unlimited discretion of juvenile courts. While the noble rehabilitative goal of the system itself was not disputed, there were concerns about three basic factors:

the number of youth institutionalized indefinitely for "treatment";
the vastly different sentences that youths could receive based on the personal philosophy of individual judges;
growing concerns regarding the lack of procedural safeguards
Over the next few years, those concerns only grew as scathing reports regarding substandard personnel and treatment options began appearing. For example, juvenile court judges often lacked appropriate legal training. Probation officers were woefully under-trained and their heavy caseloads often prohibited meaningful social intervention. In direct violation of both the spirit and letter of the law, children were regularly housed in adult jails and prisons. Juvenile correctional institutions ("reform school" terminology fell into disuse) were often overcrowded and violent, serving as little more than facilities were criminality was taught, not corrected.
Something had to change, and it was: In Re: Gault, (1967) children in juvenile court acquired the right to an attorney for the first time, even if they couldn't afford one. (Gideon vs. Wainwright had conferred the same right to adults only a few years before.)
Finally, In 1974, Congress passed the Juvenile Justice and Delinquency Prevention Act (JJDPA) which sought to standardize and modernize the juvenile justice system It still stands today as the country's primary federal legislation regulating juvenile justice.
While much improved after passage of JJDPA, much remained -- and remains -- to be done. For example, the juvenile court system in rural areas is often extremely underfunded and staffed by court officials and lawyers who are woefully under-trained in this area of the law.
It seems the erstwhile "reform school" system, by whatever name it goes under now or in the future, needs its own reforming. To wit:
encourage the specialization and/or continuing education of juvenile criminal defense as a separate practice area;
ensure the adequate funding of juvenile court systems vis'-a-vis' their adult counterparts;
continue to work with adolescent behavioral specialists to better formulate treatment programs;
monitor the efficacy of juvenile court systems through outcome-based data collection
Today, the advanced state of adolescent behavioral and neuroscience research shows just how different developing adolescent minds are from adult minds. That research underscores the relevancy of the juvenile court system as never before. Society ignores these "children's courts" at its own peril.