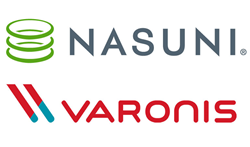 The joint Nasuni-Varonis solution gives us best-in-class capabilities for file storage and file security, and enhances our ability to maintain tight schedules, while keeping IT costs down. - Dennis DiPalma, MIS Project Leader, PJ Dick
LAS VEGAS (PRWEB) April 30, 2018
Today at Dell Technologies World, Nasuni, the leading provider of cloud-scale enterprise file services, announced upcoming support for the Varonis® Data Security Platform. Cloud storage adoption is on the rise, with enterprises increasingly turning to Nasuni's global file system with private cloud storage solutions such as Dell EMC ECS and IBM Cloud Object Storage or public cloud storage solutions such as Azure Storage and Amazon S3 for more scalable file sharing. These enterprises will be able to leverage the integration between Nasuni and Varonis to protect their files from cyberattacks and insider threats.
Nasuni provides the modern file services platform that stores files in limitless private or public cloud object storage, while using virtual or physical edge appliances to cache active files anywhere high performance file access is needed. Varonis provides the data security platform that protects files from cyberattacks and insider threats by analyzing the behavior of the people and machines accessing the data, alerting on misbehavior, and enforcing a least privilege model. Together, Nasuni and Varonis provide a complete, end-to-end solution for unstructured data storage, collaboration, protection, management, security, governance, compliance, and analytics.
"Our goal in IT is to deliver efficiency and performance in support of our large-scale contracting projects," said Dennis DiPalma, MIS Project Leader at innovative construction firm PJ Dick Trumbull Lindy Paving. "With CAD and other types of unstructured data growing and playing a critical role in every project, a scalable file infrastructure that enables us to quickly store, collaborate on, and recover files is essential. At the same time, we need to be able to prevent malware, ransomware, and other threats from compromising our file data. The joint Nasuni-Varonis solution gives us best-in-class capabilities for file storage and file security, and enhances our ability to maintain tight schedules, while keeping IT costs down."
Each Nasuni appliance looks like a traditional NAS device or file server, leveraging existing Active Directory or LDAP authentication infrastructure and standard file sharing protocols (e.g. CIFS, NFS) to provide file access. However, the appliances require a much smaller storage footprint – typically 80% less capacity – since they are "right-sized" to cache only the active files. Nasuni can now send file tracking data from each appliance to Varonis, which can be installed anywhere Nasuni appliances are located. The Varonis Data Security Platform provides centralized security monitoring, data classification, auditing, analytics, and remediation.
"Companies are shifting from traditional security approaches designed to keep attackers off their networks to a new model that focuses on protecting their critical data from the inside out, while at the same time shifting from traditional file storage approaches to cloud-based architectures that offer scalability and cross-office collaboration," said David Bass, Varonis' Executive Vice President of Engineering and CTO. "Our integration with Nasuni addresses both transformations, providing joint customers with a comprehensive solution for storing, sharing, protecting, and defending their data on premises and in the cloud – while also addressing GDPR and other requirements by discovering and classifying personal identifying information."
The extensions to Nasuni that support the Varonis integration are available in its new release, also announced today at Dell Technologies World (see related press release, "Nasuni Extends Flagship File Services Platform with Nasuni Spring 2018 Release"), and will be compatible with an upcoming Varonis release.
"Nasuni has become the new file services standard for companies needing to overcome file storage capacity and performance issues, ineffective multi-site file sharing, inadequate recovery points and recovery times, high costs, and complex administration," said Russ Kennedy, Nasuni Chief Product Officer. "Our integration with Varonis brings a new level of enterprise-class data security and analytics capabilities to the Nasuni platform. With the Nasuni-Varonis joint solution, IT organizations now have a more scalable and secure way to achieve their digital transformation and cloud modernization objectives."
About Varonis
Varonis is a pioneer in data security and analytics, fighting a different battle than conventional cybersecurity companies. Varonis focuses on protecting enterprise data: sensitive files and emails; confidential customer, patient and employee data; financial records; strategic and product plans; and other intellectual property. The Varonis Data Security Platform detects insider threats and cyberattacks by analyzing data, account activity and user behavior; prevents and limits disaster by locking down sensitive and stale data; and efficiently sustains a secure state with automation. With a focus on data security, Varonis serves a variety of use cases including governance, compliance, classification, and threat analytics. Varonis started operations in 2005 and now has thousands of customers worldwide — comprised of industry leaders in many sectors including technology, consumer, retail, financial services, healthcare, manufacturing, energy, media, and education.
About Nasuni
Nasuni enables enterprises to store and synchronize files across all locations at any scale. Powered by the Nasuni UniFS® global file system, the Nasuni® file services platform stores unstructured data in private or public cloud object storage from providers such as Amazon, Dell EMC, IBM, and Microsoft, while intelligently caching actively used data on virtual or hardware edge appliances for high performance access. Nasuni serves a variety of use cases, including NAS/file server consolidation, multi-site collaboration, business continuity, digital transformation, and active archiving. Nasuni customers include industry leaders in architecture, engineering, and construction; manufacturing; retail and consumer goods; media; entertainment; and, technology, all of whom are using Nasuni to improve workforce productivity and reduce IT cost and complexity.
Social Media Links
Twitter: http://www.twitter.com/nasuni
LinkedIn: https://www.linkedin.com/company/nasuni
Blog: http://www.nasuni.com/blog
# # #
All company and product names are property of their respective owners.