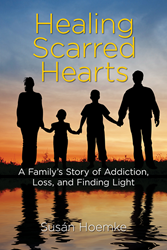 I began to think about our family, friends, and people of every walk of life who could face painful situations like ours, which led me to believe I must share what I know and what we had to learn the hard way. --Susa'n Hoemke
DALLAS (PRWEB) May 08, 2018
Brown Books Publishing Group is pleased to announce the release of Healing Scarred Hearts: A Family's Story of Addiction, Loss, and Finding Light.
With the heroin and opioid crises so prevalent in recent news and events, author Susa'n Hoemke highlights a growing epidemic through the story of her son Hayden's battle with drug addiction. By utilizing her own experience, Hoemke uses these events to educate others. Healing Scarred Hearts also acts as a resource for parents on the truth behind drug paraphernalia.
"I would like everyone to understand that addiction can happen in any family and by learning and being prepared […], you can simplify the shock and be able to identify a problem before it escalates," says Hoemke.
Hoemke uses her gripping account as the platform for raising social awareness while also seeking to create positive change for those affected by drug addiction. For those needing support, she encourages involvement in AA (Alcoholics Anonymous), NA (Narcotics Anonymous), and Al-Anon meetings, as well as other organizations, including Winning the Fight and Hope Sheds Light.
Hayden's difficult life journey serves as a reminder and warning of the devastating effects of drug addiction on both the user and their family. Hoemke relates the compelling words Hayden spoke during a time when he was clean; "Mom, being an addict is terrible, and I do not want anyone to be like me. Maybe someday I can help people."
Motivated to fulfill Hayden's desire to help others, Healing Scarred Hearts is the first step in the process for his dedicated mother.
"Through mourning, dealing with the pain, and talking about it, I can now enjoy the wonderful memories I have of him from the joy and the laughter he brought to the family."
To learn more about this family's story, visit http://www.HealingScarredHearts.com.
About The Agency at Brown Books (ABB)
As a sister company of Brown Books Publishing Group, The Agency at Brown Books is backed by more than 20 years of publishing excellence, leveraged in the first full-service public relations, marketing, branding and distribution provider within a publishing house. The Agency provides high-level public relations, marketing and distribution services for not only Brown Books authors, but also non-affiliated authors, all within the same house. For more information, please visit http://www.TheAgencyatBB.com.
About Brown Books Publishing Group (BBPG)
Founded in 1994 as an Entrepreneurial Publisher for Entrepreneurial Authors®, Brown Books Publishing Group was established to fill a need in the publishing world by allowing authors to have a voice in the publishing process while retaining the rights to their intellectual property. Applying this innovative Relationship Publishing™ model, Brown Books has cultivated a prestigious stable of authors, from New York Times bestsellers to Pulitzer Prize winners and more. Boasting hundreds of high-quality books across genres, Brown Books is a fiercely independent publisher that encourages author empowerment. In 1994, Brown Books ushered in A New Era in Publishing™, and more than two decades later, continues to be a successful innovative leader in the publishing industry. For more information, please visit http://www.BrownBooks.com.