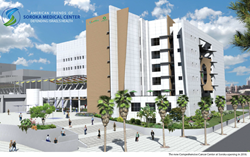 "The Comprehensive Cancer Center will provide world-class care to a thriving and expanding population," says Dr. Larry Norton, honoree and supporter of AFSMC, "The CCC will also be the home of basic and clinical science that could improve cancer care throughout the world."
NEW YORK (PRWEB) April 30, 2018
American Friends of Soroka Medical Center (AFSMC), will host its sixth annual gala benefit dinner on May 1, 2018 at the Pierre Hotel in New York City. More than 400 guests are expected to attend. Over 18 million dollars have been raised to date for the new Comprehensive Cancer Center (CCC) at Soroka known as the Legacy Heritage Oncology Center and the Dr. Larry Norton Institute, which is set to open on July 31st of this year in Israel's most diverse region. The new state-of-the-art facilities will be the most advanced cancer treatment facility in the Middle East and fulfill an urgent need to provide word-class cancer treatment to the 1.2 million people living in Israel's Negev region.
"Soroka is a growing force for innovation in cancer care, integrating breakthrough research and technology." Remarks Professor Itzhak Avital, head of the CCC at Soroka Medical Center, "Soroka's relationship with Ben Gurion University and its proximity to Israel's cyber hub in Be'er Sheva, place it at the center of forward-thinking talent."
Soroka Medical Center's Legacy Heritage Oncology Center and the Dr. Larry Norton Institute will serve more than 18,000 cancer patients each year, including 750 children and that number is expected to increase significantly over the coming years. The center will house groundbreaking research laboratories dedicated to discovering better ways to prevent, diagnose, and treat cancer. The newly expanded center will encompass seven floors and thirteen clinics. This expansion will effectively double the space for cancer treatments, provide advanced research capabilities, as well as offer comfortable spaces for patients and their families.
"The Comprehensive Cancer Center will provide world-class care to a thriving and expanding population," says Dr. Larry Norton, honoree and supporter of AFSMC, "The CCC will also be the home of basic and clinical science that could improve cancer care throughout the world."
Dr. Larry Norton will be honored for his outstanding global leadership in the effort to conquer cancer. Dr. Norton's tireless work has made a profound difference in the lives of countless patients and their families. The Dr. Larry Norton Institute at Soroka Medical Center is named in recognition of his enduring contributions and ongoing support. During a special tribute Soroka will also pay tribute to the late Rosalind Franklin (1920-1958), the pioneering scientist who took the famous "Photograph 51," which lead to the discovery of DNA. Her work is the precursor to personalized medicine that has transformed cancer care. Franklin's niece and namesake will accept this special tribute award.
"Our top priority is to help cancer patients live longer, better quality lives," remarks Rachel Heisler Sheinfeld, executive director, AFSMC, "We aim to employ the most advanced treatment technologies currently available, and foster cutting-edge research that will save lives globally. There are still many significant opportunities available for donors to support this important project, including acquisition of key equipment, completion of the Cancer Center, research and clinical care."
Other honorees include international bestselling author, Nicole Krauss. Her latest book "Forest Dark" is a New York Times Notable Book of 2017 and named best book of 2017 by Esquire, Publishers Weekly, the Financial Times, the Guardian, Refinery29, and Popsugar. Krauss' thought-provoking books draw important connections to philanthropy, spirituality, and draw deep connections to Soroka's home in the Negev. Guests will be entertained by musical guest Paul Shaffer best known as David Letterman's bandleader on the CBS Late Show. Live bidding will provide attendees with a plethora of items and exclusive get-a-ways to reward their charitable contributions. Tickets are available for purchase at the American Friends of Soroka Medical Center's website or by contacting Rachel Heisler, executive director of AFSMC by calling 914-725-9070.
ABOUT
American Friends of Soroka Medical Center is a New York State 501(c)3 nonprofit corporation. AFS is a community of individuals, families, foundations and businesses dedicated to supporting the vision and lifesaving work of the Soroka Medical Center. AFS educates the U.S. public about Soroka's medical treatment, research and global impact and cultivates philanthropic funding to ensure Soroka can achieve its goals. For more information, visit: soroka.org
The Soroka Medical Center is Israel's leading healthcare institution located in Be'er Sheva, it is the sole medical center in the entire Negev, one of the country's most diverse and fastest-growing areas. Soroka serves over 1.2 million residents, including over 400,000 children, in a region that comprises 60% of Israel's land. With two medical schools, a proven record of producing groundbreaking research and life-saving treatments and an extraordinary staff, Soroka offers exceptional healthcare for all, regardless of race, religion, or politics. This unique institution, founded in 1959, exemplifies a deep commitment to outstanding medical care, peaceful coexistence and medical research that has a global impact.. Soroka.org
The New Comprehensive Cancer Center at Soroka known as the Legacy Heritage Cancer Center for the Negev & The Larry Norton Institute serves more than 18,000 cancer patients every year at Soroka, including 750 children. Soroka's new Comprehensive Cancer Center, opening in Summer 2018, will ensure that its patients will benefit from state-of-the-art facilities, treatment and technologies. By leveraging Soroka's connection with Ben Gurion University and its location in the burgeoning technology hub of Be'er Sheva, the new comprehensive cancer care center at Soroka is set to be the most advanced cancer treatment facility in the Middle East.