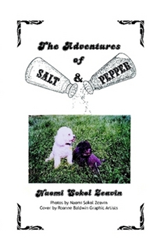 FALLS CHURCH, Va. (PRWEB) April 30, 2018
"The Adventures of Salt & Pepper" (published by Lulu) by Naomi Sokol Zeavin explains how animals often need people's help to escape bad and sometimes dangerous situations and find loving homes.
Salt and Pepper are twin sisters. They were born in a puppy mill. But they were rescued, and now they live together in a loving home. The two dogs remember what it was like in "that" place, and they want to help others. Salt and Pepper save the day by having a "FUN-raiser" to get money to help all animals.
With this new educational book, Zeavin seeks to teach children the importance of working together, with people of all different demographics. She says, "Every child can easily relate the way this book shows, step-by-step, how each child, by putting in their own ideas and energy, can reach their final purpose, with success."
"The Adventures of Salt & Pepper"
By Naomi Sokol Zeavin
Hardcover | 6 x 9 in | 42 pages | ISBN 9781483480008
Softcover | 6 x 9 in | 42 pages | ISBN 9781483479996
E-Book | 42 pages | ISBN 9781483480015
Available at Amazon and Barnes & Noble
About the Author
Naomi Sokol Zeavin was born in New Britain Connecticut. She graduated from Dean Academy and attended Emerson College in Boston. She is President of U-R-Unique Video Productions. Her YouTube channel is @Zeavin1. Zeavin is listed in "Who's Who in American Politics." She was appointed by President Reagan as an advisor on the arts, to the the John F. Kennedy Center. Zeavin had served on the Fairfax County History Commission for 22 years. Zeavin is the author of "Carmen's Secret Diary: Aboard the USS HORNET (CV-12) in 1944." She has published numerous articles and short stories and community shows. Her film "Journey To Augustow" is in the Holocaust Museum in D.C., in Yid Vishim in Israel and in Polish in Warsaw, Poland. She is the proud mother, grandmother and great-grandmother. Zeavin lives in Virginia. More information is available at: http://www.theadventuresofsaltandpepper.com.
Lulu empowers people of all ages to explore and express their interests, passions and expertise through books, photography and art. Since introducing self-publishing in 2002, Lulu has empowered creators in more than 225 countries and territories to produce nearly two million publications. Lulu Jr. allows children to become published authors, encouraging creativity, strengthening literacy and building self-esteem. Picture.com offers professional photography of collegiate and professional sports, memorable and historic events, fine art and home décor. For more information, please visit lulu.com.