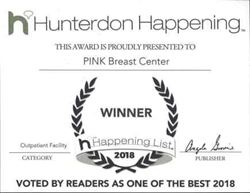 PINK was honored to be awarded Best Outpatient Facility. Our focus is always on the patient and we use the latest digital equipment for more comfort and less radiation.
FLEMINGTON, N.J. (PRWEB) April 29, 2018
PINK Breast Center was honored to be named the Winner in the Best Outpatient Facility category in the 2018 Hunterdon Happening List Awards. The Happening List is the most popular people's choice competition in Hunterdon County, NJ. The contest was created to support local businesses, events and organizations. Other award categories included Wellness, Nutrition, Family Medicine, Hospital, etc.
The focus of the Happening List awards is on the community selecting their favorite local businesses. A lengthy auditing process verifies the validity of the votes. The Happening List wants to recognize and support local businesses in the community.
PINK Breast Center is an independent, physician owned medical diagnostic imaging center for breast care and ultrasound studies by Dr. Lisa Sheppard. Dr. Sheppard founded the practice in 2008 because she saw many groups of women having difficulty being served properly by existing facilities.There are currently two locations in New Jersey: Flemington and Paterson. Both locations are certified Breast Imaging Centers of Excellence. PINK's goal is to create a safe, comfortable and spa-like environment for women and to provide quality care at a cost any woman can afford. PINK uses the latest digital equipment to provide the care that you deserve with more comfort and less radiation. Services provided include 2D Mammograms, 3D Tomosynthesis Mammograms, Breast Ultrasounds and DEXA Bone scans. A radiologist can usually read results while the patient is still in the facility.
For more information, please contact PINK Breast Center or call 908-284-2300.