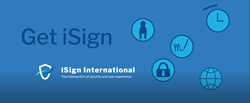 NEW YORK (PRWEB) April 29, 2018
Michael Gilburd, Chairman and CEO today announced, " I am thrilled to share with you all that Boink Live Streaming Corp. has come to an agreement to acquire iSign International, Inc. Cryptocurrency platform and their Blockchain Technology (excluding Health care applications)." Michael Gilburd went on to say, "This is an exciting day at Boink Live Streaming, as this acquisition enables us to jump-start our programs for gaming, travel and retail sales."
About Boink Live Streaming Corp.
Boink Live Streaming Corp., has a recently-launched app with plans for broadcasting and watching live steaming videos free for download on iTunes store, Apple and Android; and through its website at http://www.boinklive.com. The Boink Live strategy includes:

Virtual reality experiences
Virtual Gifts
Logo advertising
Video advertising
Bonk Live monthly and yearly VIP membership
Original entertainment including, singers, talk shows, cooking shows and comedy shows, all from famous celebrities
A powerful, high performance engine
Boink Live Streaming Corp. was formed to create a social media platform based on broadcasting and watching people live streaming. Our corporate headquarters are located in the United States (Scottsdale, Arizona, with regional offices in the Philippines, Romania, Indonesia, and the United Kingdom. Our application was programmed by our technical partner iMagically, with production builders for the app in the Ukraine, by IDAP corporation, Castle productions in Indonesia. A beta version is currently available on Google, ITunes stores, Apple stores and works on all Android and Apple phones. We have created a free to download mobile application that allows its users to watch and broadcast live streaming videos while earning rewards and cash. With one click our users will be able to go live, broadcast themselves, meet new people, connect with their favorite celebrities and gain followers, all by sharing their moments, lifestyle and attitude. Our application features live streaming and chat, so our users may stream videos and use our live chat to comment and talk during the live stream; stickers that stay on the face while broadcasting; and live filters and make up effects to liven up the streaming video they are broadcasting. The application also includes live feed search using hashtags allowing users to Bonk Live debit card, Banking services, Payment services, Phone pay service and videos and broadcasters in line with their interests, hobbies and personalities. The Bonk Live stream can be shared through other popular social media platforms such as Facebook, Twitter, Instagram and Snapchat to gain followers. The application will allow its users to send gifts to their favorite broadcasters. These gifts can be turned into gold bars (our cryptocurrency) which can be redeemed for national currencies. Boink will capitalize on the growing entertainment market across the world through the production and promotion of high quality
streaming entertainment.
About iSign International:
iSign International provides the ultimate protection against hacking and cybercrime with its proprietary AI Security Protocol, frictionless biometric signature recognition solutions, innovative devices pairing, Dynamic PKI encryption, 5-Factor Authentication, and biometric signature blockchain. iSign has global partnerships companies that provide diversified technology, automatic identification and data capture (AIDC) products; software-driven networking solutions for enterprise customers; wired and wireless network infrastructure equipment; software for network management, policy, analytics, security, and access controls; and, distribution of solutions-based ADC, Mobility, Point-of- Sale, RFID, Digital Signage, and ID & Security technology. and value-added resellers, providing them with complete solutions, business development and marketing support.  iSign believes that its technology, which is covered by several patent pending and patented claims, constitutes a game changing approach as it renders hacking practically impossible.  Clients who trust iSign technology range from multi-million to multi-billion-dollar companies, including Yavapai Regional Medical Center, Providence Health and Services, Southwest Electric Cooperative, Savant Software and Peacey Systems, and TIPAAA.
Safe Harbor Statement
This press release contains forward-looking statements that may be subject to various risks and uncertainties. Such forward-looking statements are made pursuant to the "safe harbor" provisions of the Private Securities Litigation Reform Act of 1995 and may include statements regarding our estimates, future contracts, future financial performance or results of operations, including the number of recurring subscribers, revenue growth, cost of revenues, operating expenses, interest expense, net loss and cash flow. Unless otherwise required by law, we undertake no obligation to publicly update or revise any forward-looking statements, whether because of new information, future events or otherwise after the date of this press release. Additional information concerning risks and uncertainties that may cause actual results to differ materially from those projected or suggested in the forward-looking statements may be found in the company's private Placement Memorandum.