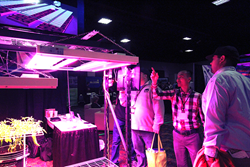 PALM SPRINGS, Calif. (PRWEB) April 30, 2018
The 7th CannaGrow Expo will be hosted May 19-20, 2018 in sunny Palm Springs, CA at the Palm Springs Convention Center & Renaissance Hotel.
The CannaGrow Expo is a two-day educational event dedicated to the art & science of cannabis cultivation and extraction. This action packed two-day conference gives passionate cannabis growers and extractors from around the world the opportunity to network with each other, share strategies, learn from experts, and find the products and services to bring their cannabis operations to the next level.
1200+ commercial growers & extractors, home growers & processors, grow store managers, dispensary owners & managers, investors, and those just interested in learning about cultivating and extracting cannabis will attend this two day event in Palm Springs, CA. See the detailed agenda.
CannaGrow Palm Springs will feature a selection of 35+ cultivation and extraction focused educational sessions lead by world-class educators, endless networking with cultivators and extractors from around the world, and an expo hall packed with the latest tools & technology for growing and processing cannabis.
Detailed agenda & tickets available at CannaGrowExpo.com