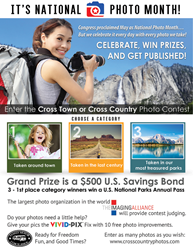 ATLANTA (PRWEB) April 30, 2018
Vivid-Pix, The Imaging Alliance, and Family Motor Coach Association announces "Cross Town or Cross Country, National Photo Month Photo Contest."
Everyone loves photography, and with today's technology, it's never been easier to take and share photos. To commemorate May is National Photo Month, we recognize the best photo moments are created at home, in everyday towns and in travels across this great country.
People are invited to enter photos of their local community, historical photos of their family, and photos taken in our U.S. National Parks.
A $500 U.S. Savings Bond grand prize will be awarded, following by three winners of a U.S. National Parks Annual Pass.
Judging will be conducted by the board of The Imaging Alliance, an international non-profit representing leading companies like Canon, Fujifilm, Humaneyes, Manfrotto, National Geographic, Nikon, Noritsu, Olympus, Panasonic, Sigma, Sony, Tamron, Unibind, Vivid-Pix, Western Digital, and more, as well as leading retailers and service providers like Shutterfly, Roberts Camera, Mike's Camera, Hunt's Photo and Video, and APPO.
To bring photos to their best quality, Vivid-Pix is providing 10 free fixes using any of their software. RESTORE for Windows and Mac offers one-click color and contrast correction and intuitive fine-tuning sliders that improve scanned prints, slides, documents, and digital photos in seconds. Land & Sea and Land & Sea SCUBA for Mac and Windows; provides one-click improvement to photos with poor color, are too dark, too light, backlit, hazy, tilted, and even taken underwater. SCUBA, in addition to providing scuba depth correction and additional capabilities, processes RAW, DNG, TIF and JPEG image formats.
For information about the contest, visit: http://www.crosscountryphotos.com
About Vivid-Pix
Vivid-Pix designs, creates and delivers Fast and Easy Photo and Document Improvement Software. Since 2012, Vivid-Pix has expanded sales to over 100 nations and supports numerous charitable organizations. The Vivid-Pix team is a far-flung group of excellent people who deliver software that helps customers Celebrate and Share Life with Vivid-Pix!
For more information about Vivid-Pix, visit http://www.Vivid-Pix.com.
About The Imaging Alliance
The Imaging Alliance is a non-profit organization representing the bold and diverse imaging industry, with a membership that encompasses manufacturers, software and application developers, retailers, media, photographers and others. It brings together critical assets from two respected, long-time industry associations: the Photo Manufacturers and Distributors Association (PMDA) and the Photo Marketing Association International (PMAI). The Imaging Alliance actively promotes the economic growth and sustainable development of both current and future imaging applications. Its members work together to create a sense of community through philanthropic activities that support visual communications. For more information on the Portraits of Love Project, or to team up with The Imaging Alliance, please visit http://www.theimagingalliance.com
About FMCA • Enhancing The RV Lifestyle
FMCA is an international organization for families who own and enjoy the use of self-contained recreation vehicles (RVs). The association maintains its national headquarters in Cincinnati, Ohio, and currently has more than 142,000 members. FMCA offers its members a number of benefits, including a subscription to its monthly magazine; a medical emergency and travel assistance program valued at $105 per family; a tire purchasing program; group rates on a roadside assistance program and on RV and auto insurance; and discounted rates for RV tours and caravans. Perhaps the most important benefit of FMCA membership is the camaraderie and friendships that develop among people enjoying the common interest of RV travel. The organization can be reached at (513) 474-3622 or (800) 543-3622 and on the web at http://www.FMCA.com.