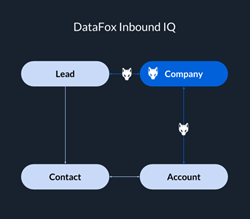 DataFox Inbound IQ empowers teams to bypass existing CRM gaps between leads and accounts and leverage robust account insights at every stage in the funnel.
SAN FRANCISCO (PRWEB) April 30, 2018
DataFox (http://www.datafox.com), the company intelligence provider, today announced the launch of Inbound IQ, a solution for strategic marketing teams to bridge the gap between leads and account-based strategies, enabling synchronized sales and marketing engagement.
As account-based strategies grow in prominence, B2B sales and marketing teams are tasked with balancing lead-based inbound flow with account-based marketing (ABM) strategies. This contributes to misalignment on pipeline prioritization and reporting criteria, and can ultimately contribute to friction between sales and marketing teams.
Misalignment occurs because CRM leads are isolated from accounts. This is difficult because of a technical gap in the way CRM systems are generally structured; CRM leads are typically not associated to a company until they are manually qualified. Company-level information, if it does exist, may be isolated on other leads or on a CRM account.
DataFox's new Inbound IQ solution solves these challenges by connecting lead and account-based strategies, allowing them to complement one another:
1. Intelligent Forms enable marketers to better validate inbound submissions by matching email addresses to legitimate company domains and automatically appending the corresponding company data.
2. Lead-to-Company Matching connects leads to DataFox Companies, helping surface new target companies that should be qualified into the CRM as accounts.
3. Lead Enrichment with DataFox Company Data appends new or existing leads with robust company data from DataFox's company intelligence platform to enable data-driven lead routing and campaign segmentation.
4. MQL by Account Score improves MQL quality by combining engagement scores from marketing automation platforms with DataFox Account Scoring, which includes both DataFox company and CRM account data. Leads are enriched with this score, along with robust company data, to screen MQLs based on Ideal Client Profile (ICP), improving MQL quality and conversion rates.
5. Company Signals on CRM Leads eliminate pre-call research and drive informed SDR engagement by displaying DataFox's proprietary Company Signals on CRM leads.
6. ABM Execution Alignment uses Account Scoring as a universal measurement to send best-fit companies to ABM execution campaigns.
DataFox Inbound IQ empowers teams to bypass existing CRM gaps between leads and accounts and leverage DataFox's robust account insights at every stage in the funnel. The Account Score can be used as a point of alignment for account and lead-based programs to ensure that all go-to-market efforts are focused on prospects with the highest likelihood of becoming long-term, high value customers.
During its limited customer beta, DataFox has enriched 11.4 million of its customers' leads with robust company data and account-level insights. The solution is now generally available.
As DataFox Co-Founder Mike Dorsey puts it, "For marketing and sales to be truly aligned, they need to be speaking the same language. One of the key handoffs, particularly for inbound marketers, is passing a lead from marketing to sales. The lead needs to have attributes that sales cares about, namely detailed account fit characteristics that drive rep behavior. That's where DataFox's company insights and Account Scoring criteria come in, to help bring ABM and inbound together in harmony with sales."
DataFox will be demoing the new functionality live at Marketo's Marketing Nation Summit in San Francisco, April 29th to May 2nd, 2018. To request a demonstration, contact sales(at)datafox.com.
About DataFox
DataFox helps sales, marketing, and investing teams find their best-fit accounts and act on them. DataFox's machine learning algorithms and human analysts verify proprietary insights on millions of businesses to provide robust company data and growth signals. DataFox's account-based approach to CRM orchestration, built on its base company intelligence platform, fuels an Account Scoring engine to surface companies most likely to convert and unlock powerful ABM engagement workflows.
Headquartered in San Francisco, CA, DataFox is backed by Goldman Sachs, Green Visor, Google Ventures, and Slack, and used by high-growth startups and Fortune 500 companies alike, examples include UPS, Visa, Twilio, and Zendesk.
To learn more, visit http://www.datafox.com.