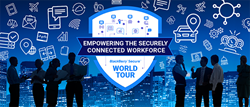 BOULDER, Colo. (PRWEB) April 30, 2018
Zia Consulting, Inc., the leading provider of enterprise content management (ECM) and intelligent document capture business solutions, announced today that it will participate in and sponsor three stops of the BlackBerry Secure World Tour 2018—the premier industry event for business leaders to gain insights into the hyperconnected world of people, enterprises, assets, and infrastructure. Where the secure flow of information across endpoints is both mission- and safety-critical.
Zia will join CIOs, CSOs, industry leaders, and BlackBerry executives during events in San Francisco on May 3, Washington D.C. on May 15, and Chicago on May 17 to discuss how to leverage emerging trends in the Enterprise of Things and BlackBerry's new product innovations to ensure mobile-enabled workflows, IoT endpoints and shared files are used securely.
Please click here to learn more about the BlackBerry Secure World Tour and to register using the code BBSWT2727.
For more details on Zia Consulting, please visit http://www.ziaconsulting.com.
###
Zia Consulting delivers secure enterprise content management (ECM) and intelligent document capture solutions addressing the needs of enterprises to better manage, process, and secure documents. Offerings tackle key issues of ECM user adoption and cost reduction through document automation and a desire for ECM and capture modernization including the cloud. Our vertical accelerators for insurance, mortgage, accounts payable, and more are utilized by some of the world's largest enterprises to deliver rapid ROI and enhanced governance.