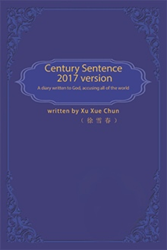 SHANGHAI (PRWEB) April 30, 2018
Xu Xue Chun believes that wickedness is everywhere, from crime, terrorism attack, fraud, robbery, rape, and murder to violence. These social disorders are expressions of social management failure. He supports the idea that the reason of a country's social management failure is yin-yang imbalance. In other words, the country does not strike a balance among democracy, freedom, social order and social justice. With this, he releases "Century Sentence: A Diary Written to God Accusing Against All of the World" (published by Xlibris AU), a book containing the author's comments and suggestions on all-important events which occurred in China and around the world from 2004 until now. The book also serves as his appeal to God against the injustice and unfairness of the world.
The book is a prophecy book that expresses the author's views, attitudes and prophecies about all the major events and all the people in the world today. The author states that all the prophecies in this book have been supported by God, and have become facts or is going to become facts.
Expressed through humorous, witty, sharp, exaggerated and "miraculous" writing style, the book not only reveals the problems of the world in detail, it also offers solutions that are hoped to make micro- and macro- affects on the society. "My book can bring wealth, peace, social order and justice to all people in the world. We shall set up a god's kingdom on the earth," he adds.
"Century Sentence: A Diary Written to God Accusing Against All of the World"
By Xu Xue Chun
Hardcover | 6x9 in | 986 pages | ISBN 9781543403879
Softcover | 6x9 in | 986 pages | ISBN 9781543403862
E-Book | 986 pages | ISBN 9781543403855
Available at Amazon and Barnes & Noble
About the Author
Xu Xue Chun was born in Xinjiang, China, in 1972. He is a Chinese folk opinion leader and scholar. In 2004, he proposed a reform scheme for Chinese state-owned enterprises to the Chinese government. His reform scheme was adopted by the Chinese government and became the basic framework for the current economical operation and social management of China. Since 2014, he has put forward his own views on great events happened all over the world, which has great influence on religious reform, public security, politics, economy and culture all over the world.