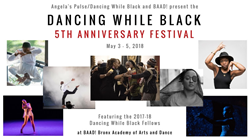 Dedicated to amplifying the voices and presence of black dance artists, the three-day festival will host a variety of dance performances featuring, post-performance conversations, short film screening and a panel discussion.
BRONX, N.Y. (PRWEB) April 30, 2018
Angela's Pulse will celebrate the fifth anniversary of its Dancing While Black initiative, May 3-5, 2018 at BAAD! Bronx Academy Of Arts and Dance. Dedicated to amplifying the voices and presence of Black dance artists, the three-day festival will host a variety of dance performances, post-performance conversations, short film screening and panel discussion.
Founded by award-winning dancer and choreographer Paloma McGregor in 2012, Dancing While Black aims to widen the lens on Black dance art beyond performance to exploring the creative process, building communities and archiving art as history.
"I am honored to celebrate the fifth anniversary of Dancing While Black in and with community," said McGregor. "Bringing the voices of Black dance artists from the periphery of the field to the center is my personal mission. The festival mirrors that work, creating spaces for dialogue, experimentation, performance and community-building. I am excited to celebrate what we've done and to vision the next five years and beyond."
Each day will highlight a different theme with a lineup of supporting performances and programming led by guest artists, Dancing While Black Fellows and BAAD!'s youth dance program, AATT Academy.
"Dancing While Black" Programming:
• May 3, 7pm: "Dance Futures" celebrates the community featuring Bronx youth, including a lecture/demonstration by AATT Academy and performance by MOVE(NYC).
• May 4, 8pm: "Living Our Legacies" brings together current DWB Fellows and tap master Jason Samuels Smith for a special performance showcase curated by Rashida Bumbray.
• May 5, 4pm: "Looking Back, Visioning Forward" examines the greater scope of Black dance with a long table discussion curated by Eva Yaa Asantewaa/EYA Projects, a screening of Gabri Christa's Another Building dance narrative series and dance finale featuring DWB Fellows and Donna Clark performing work from dance pioneer Eleo Pomare's classic Narcissus Rising, curated by Marýa Wethers. The evening will close with a dance party.
Guest master artists include Arthur Aviles, co-founder/artistic director of BAAD!; Chanel DaSilva, co-founder/artistic director of Move NYC; Emmy award-winning tap dance master Jason Samuels Smith and Donna Clark, associate director of Alpha Omega Theatrical Dance Company. Alethea Pace, J. Bouey, Jasmine Hearn, Kayla Hamilton, NIC Kay and Shelby Felton are featured as the 2017-18 Dancing While Black Fellows.
"Dancing While Black" will take place Thursday-Saturday, May 3-5 at the Bronx Academy Of Arts and Dance, located at 2474 Westchester Ave, Bronx, NY 10461. Tickets range in price from free and pay what you can to $15-20 for the dance performances on days two and three. For more information or to purchase tickets, please visit http://www.baadbronx.org/boogie-down-dance-2018.html.
About Angela's Pulse
Angela's Pulse creates and produces collaborative performance work dedicated to building community and illuminating bold, new stories. The company provides a home for interdisciplinary collaborations that thrive on both politics and play and is committed to developing timely performance works that provoke, inform and inspire. Co-founded by Paloma and Patricia McGregor, Angela's Pulse was named for their mother Angela, an artist, teacher and activist who continues to inspire their work.
About BAAD!
Co-founded in 1998 in the historic Banknote Building in Hunts Point by the celebrated and award-winning dancer/choreographer Arthur Aviles and writer/activist/publicist Charles Rice-Gonzalez, BAAD! (The Bronx Academy of Arts and Dance) began as a home for Arthur Aviles Typical Theatre, a contemporary dance company that explores works on the margins of Latino and queer cultures. The company has since bloomed into a nationally-recognized arts organization firmly situated as a stakeholder in the Bronx that brings a queer perspective to the socio-political/cultural dialogue of our borough and city. BAAD!'s arts programming gives voice to artists from underrepresented demographics and aids in dismantling paradigms of social injustices including sexism, racism, and homophobia in the Bronx and beyond.