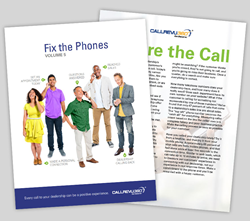 Today, phone leads outnumber web leads and walk-ins combined. The phone guides the critical step in determining which dealer the customer chooses to visit.
Baltimore, MD (PRWEB) May 01, 2018
CallRevu, a leading call management solution for the automotive industry, announces the Fix the Phones Vol. 5 publication is set to be released on May 15th and is promoting the month of May as National Fix the Phones Month. Fix the Phones is a publication for every automotive professional to download at no cost. Its contents include automotive specific data measuring every touch point of the caller's journey and best practices to fix common call fail points. Fix the phones is a resource for the automotive industry to ultimately ensure that every call between a customer and a dealership is a positive interaction.
"Dealers have done an excellent job at creating a transparent and convenient digital experience for their customers. Those customers expect that same experience to carry over to their phone call. Today, phone leads outnumber web leads and walk-ins combined. The phone guides the critical step in determining which dealer the customer chooses to visit.", says Chip King, CEO at CallRevu. "If a customer ready to purchase a car cannot reach you or cannot get the information they are looking for from a salesperson, they'll move on. Now is the time to re-define the consumer's phone experience with a dealership."
Call volume spikes for dealers in the months of June, July, and August. To prepare for peak call volume season, CallRevu is encouraging dealers, industry experts, and automotive service companies to join the effort and promote May as National Fix the Phones Month. Resources are available at no cost to all at callrevu.com/fix. Visit the site to pre-register for a copy of the Fix the Phones publication releasing May 15th, sign up for instructor-led webinars, view on demand videos, and access educational content that addresses common call fail points in dealerships today including:

26% of consumers are not able to reach someone on the phone
39% of consumers reach an agent at the dealership that is unable, or unwilling, to answer their question
88% of sales associates do not follow up with a customer after setting an appointment
CallRevu works with virtually every automotive manufacturer and is pleased to extend its OEM Fix the Phones programs through 2018. "Whatever customer facing initiative a manufacturer is focused on, there is an element of the phone involved.", says Chip. "It's time the phone stops being an afterthought in this industry." OEM Fix the Phones program offerings include regional phone performance benchmarking, regional training, and call attribution consulting, all at no cost.
About CallRevu
Founded in 2008, CallRevu offers dealerships a range of quality call tracking, monitoring, measuring and lead development services. CallRevu's key focus is to help automobile dealers measure and improve the most common contact point with their customers: the phone. CallRevu's solutions are developed by an incredible team of individuals, with a broad range of experience within the automotive industry, and an unrivaled commitment to customer experience and satisfaction. For more information, visit the company's website at http://www.callrevu.com.