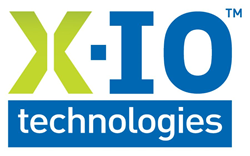 COLORADO SPRINGS, Colo. (PRWEB) May 01, 2018
X-IO Technologies today announced they are partnering with Scratch Digital + Data to enable a radical new way to consume and navigate through the massive amounts of high velocity, streaming data that is generated in cybersecurity, defense and intelligence, operations and Internet of Things (IoT). Scratch brings context-aware discovery and navigation to X-IO's Axellio edge-computing systems by providing a natural language approach to interacting with the massive amounts of data that Axellio can consume, store and process.
The Axellio edge-computing systems deliver unprecedented real-time performance for complex analytics on high-volume, high-velocity streaming data. Axellio implements cloud architectures, runs cloud native applications and achieves higher performance than other public or private cloud solutions. This level of performance enables next-generation applications where large amounts of sensor-based data inputs must be processed to provide real-time insight and response.
Scratch Digital + Data breaks the limitations of traditional "search" approaches by understanding both the relationships between the data and the metadata that describes it. The user has an experience where the system can rapidly guide them to the data that is critical to them and helps them instantly navigate to related data.
Axellio is uniquely capable to collect, store and process the massive amount of real-time data related to cybersecurity and operations generated from multiple sources and sensors. Scratch then enables the cyber operations team to instantly locate security breaches and navigate to related and possibly affected subsystems. Scratch provides:

Automatic generation of the metadata that describes the incoming data
Data-driven architecture where the incoming data automatically defines the capabilities of the system
Natural language interface for users to interact with data in terms they can understand
Applications for specific markets and API's for building custom solutions.
"Axellio's high velocity and Scratch's data intelligence are the perfect combination," said X-IO CEO Bill Miller. "Solutions that use Axellio move far beyond the collection and processing of data. Scratch makes that data seamlessly accessible for users and other systems."
"In Axellio, Scratch has found a platform that is capable of handing the velocity and volumes of data that is critical for solutions where Scratch is used," said Scratch Digital + Data CEO Mike Corbisiero. "The compact horsepower of Axellio allows us to run Scratch right next to the incoming data to provide the near real-time response that systems demand."
X-IO will host a special webinar briefing on Tuesday, May 29: "Finding the Needle in the Real Time Haystack."Click here to register here.
About X-IO
X-IO Technologies, an established innovator in advanced data storage systems, is the emerging leader in Edge Computing systems enabling real-time insight and response using big data analytics on high-volume, high-velocity streaming data. X-IO Axellio edge processing performance enables the leading applications, solution providers and OEMs in cybersecurity, financial markets, defense and intelligence, healthcare, telecom and industrial IoT. To learn more, visit x-io.com.
About Scratch Digital + Data
Scratch Digital + Data is changing the way data is consumed by providing a context-aware interaction. Scratch understands the metadata about the data that it is using to also understand the complex relationship between the data. Scratch provides an intuitive way for users to find that data that is critical to them ("discovery") and instantly move to related data ("navigation"). Together they provide precise, in-context results that are critical for rapid operational and strategic decision making. Scratch provides solutions for cybersecurity and IoT/digital thread systems along with a platform that can be used for custom applications. To learn more, visit scratchd2.com.