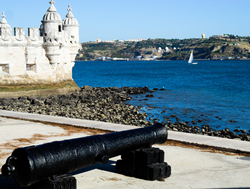 It really has been Europe's best-kept secret
BALTIMORE, Md. (PRWEB) May 01, 2018
Portugal, the westernmost country on mainland Europe's Iberian Peninsula, is a rising star on Europe's retirement map. Boasting mellow port wines nurtured in northern vineyards, sun-kissed, sandy beaches with world-class surfing, and a capital city whose cable cars clatter over hilly, cobblestoned streets sweeping down to a sheltered bay—it's easy to see why. Portugal also has Western Europe's lowest cost of living, and foreign retirees can legally own real estate. All of these factors combine to make the country an increasingly popular choice for Americans looking to rent or buy property in an Old World European retirement haven.
Portugal's Appeal
"Portugal was long overlooked by American travelers and retirees who knew of the charms of Italy, France, and Spain," says Jennifer Stevens, Executive Editor of International Living.
"Portugal just wasn't on people's radar screens, but that's begun to change. The country has seen a sharp uptick in tourist traffic. Long-term rentals are affordable and there is a massive variety of properties available to buy—making now an excellent time to check it out. Plus, a purchase here could save retirees thousands on property tax—it really has been Europe's best-kept secret."
International Living Correspondent, Tricia Pimental and her husband, Keith, moved to Portugal in 2012. Not only did their day-to-day lifestyle improve, but their cost of living dropped as well—a deciding factor in their decision to purchase a home in Portugal.
"We decided on a six-month trial period of life in Portugal," Tricia says. "We came for the climate—Mid-Atlantic in the north, mild and temperate in the center, and Mediterranean in the south. The cost of living was also a huge draw.
"After moving to Portugal, we found we could live on approximately one third of what it had cost us in a small town in north-central Utah."
Tricia fell in love with the country and that six-month trial period turned into five years of renting in various regions as they explored all this diverse country has to offer. According to International Living's report, renting in Portugal is affordable—and advisable—before buying, in order to get a feel for the different regions.
Renting in Portugal
The Pimentals first home in Portugal was a 200-year-old stone cottage with an inviting red-lacquered wooden door and window boxes brimming with pink hydrangeas. It was completely furnished, with a cozy living and dining room complete with fireplace and two nicely proportioned bedrooms.
"The rent was $500 per month," Tricia says. "We were just 15 minutes from the town of Villa Nova de Famalicão, where we did most of our shopping. The university city of Braga was 25 minutes in the other direction and the beautiful coastal city of Porto was 40 minutes away."
The Pimentals spent a few months in windswept Esposende—a kite-surfing mecca on the Atlantic between Porto and the border with Spain—where, for $600 a month, they had a fully furnished two-bedroom, two-bathroom modern condo with a shared pool.
Moving a little farther south, their next rental was a Spanish-style villa in a village 30 minutes from the medieval university town of Coimbra, sometimes known as "the Oxford of Portugal," where students still wear black capes. This fully furnished home overlooking a vineyard offered four bedrooms, an office, a large living and dining room, and a private pool—all for $900 per month.
The next stop was Mafra–40 minutes north of Lisbon and home to a magnificent Palácio Nacional. Here they rented a large two-story home of four bedrooms, four bathrooms, a four-car garage, and a small guest house outside by the garden area—within walking distance of the center of town. "We finally moved our belongings here from the U.S. and furnished this house with our own things," say Tricia. "Even with such an appealing location, the rent was just $1,000 per month."
Buying Real Estate in Portugal
In 2017, Tricia and her husband began a serious search to buy. They were greeted with a buffet of appealing properties to choose from. The search began with a budget of $300,000 and a list of "must haves."
1. Land, at least two acres, to grow fruit, vegetables, and herbs, and to provide space for a few chickens for eggs, maybe even a goat for milk and cheese.
2. A well for drinking water and irrigation purposes.
3. Solar panels for energy.
4. High-speed internet service, preferably fiber optic.
5. An hour—or less—to a major airport. Portugal has three international choices: Porto, Lisbon, and Faro.
6. A view: ocean, mountain, or countryside.
7. Quiet.
8. Hopefully, a vineyard.
"We contacted real estate agents we knew from past rentals, or who were referred by friends," Tricia says. "Online searches of popular real estate sites yielded more connections.
"We scoured the internet for properties in diverse regions of the country: the popular expat enclave of the Algarve in the south; outside of the bustling, culture-rich capital of Lisbon; the glorious interior known as the Alentejo, with its meadows of wildflowers and proud, stout, cork trees lining country roads; and the mountains of Serra da Estrela, the Switzerland of Portugal.
"The variety was an insight into just how much is available. For example, a recently rebuilt traditional Portuguese farmhouse about 60 miles from Lisbon offered an entrance hall, living room with fireplace and porch/terrace, fully equipped kitchen, three bedrooms, an office, plus two full bathrooms and an extra one for guests. On the property were walnut, cherry, pear, and apple trees. The list price was $265,000—this was a serious contender."
Keith's dream of a vineyard almost came true when they viewed a house in the Alentejo, a classic Monte Alentejano.
"The long, low lines and thick walls of the white-washed structures retain the cool in summer and warmth in winter but mean they are dark inside," says Tricia. "The vineyard boasted three different types of grapes, including Cabernet Sauvignon. The selling price was $220,000—a bargain for someone looking to make a foray into the wine business."
But the Pimentals felt the changes they wanted to make would push them over budget.
The Purchase
On Tricia and Keith's longest day searching they viewed five homes over 16 hours. Energy Performance Certificates (the official designation for energy efficiency), ranged from A to F; acreage from two to 22, prices from $69,500 to $289,000.
"We've been well rewarded for our efforts," says Tricia. "Our offer of $265,000 on a five-bedroom home with a mountain view, sitting on four acres of landscaped property, with pine and cherry trees, and some modest vines in the Beira Baixa region, was accepted.
"There's even a pool, an unexpected bonus. Our house has mixed property of rural and urban use. Its tax value is assigned by the nearby city of Fundão. Our tax bill is $673.39.
"We couldn't be happier!"
More information can be found here: Real Estate in Portugal
Editor's Note: Members of the media have permission to republish the article linked above once credit is given to Internationalliving.com
Further information, as well as interviews with expert authors for radio, TV or print, is available on request. Photos are also available.
For information about InternationalLiving.com content republishing, source material or to book an interview with one of our experts, contact PR Managing Editor, Marita Kelly, +001 667 312 3532, mkelly(at)internationalliving.com
Twitter: @inliving
Facebook: https://www.facebook.com/International.Living/
About International Living
Since 1979, Internationaliving.com has been the leading authority for anyone looking for global retirement or relocation opportunities. Through its monthly magazine and related e-letters, extensive website, podcasts, online bookstore, and events held around the world, InternationalLiving.com provides information and services to help its readers live better, travel farther, have more fun, save more money, and find better business opportunities when they expand their world beyond their own shores. InternationalLiving.com has more than 200 correspondents traveling the globe, investigating the best opportunities for travel, retirement, real estate, and investment.