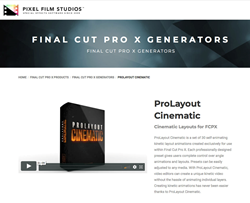 "ProLayout Cinematic is the ultimate tool for creating spectacular cinematic scenes in Final Cut Pro X!"
ALISO VIEJO, Calif. (PRWEB) May 01, 2018
ProLayout Cinematic is a set of 30 self-animating kinetic layout animations created exclusively for use within Final Cut Pro X. Each professionally designed preset gives users complete control over angle animations and layouts. Presets can be easily adjusted to any media. With ProLayout Cinematic, video editors can create a unique kinetic video without the hassle of animating individual layers. Creating kinetic animations has never been easier thanks to ProLayout Cinematic.
ProLayout Cinematic is the ultimate package for templates in Final Cut Pro X. ProLayout Cinematic is used to display friends and family, scenery, products and much more. In addition, customize the color of scene elements, background, and the style of the text using controls in Final Cut Pro X. Instantly change the vibe of your production using basic templates that can be edited with incredible ease.
ProLayout Cinematic contains an advanced 3-point framing camera system that allows video editors to easily create new camera motions with a few clicks. Using this system is intuitive. Simply move the playhead to the first frame of the ProLayout Cinematic template. Furthermore, adjust the position and rotation of the start camera controls. Then, go to the final frame of the template and alter the end camera controls. Finally, adjust the mid-camera controls to offset the camera's path.
Each layout in ProLayout Cinematic includes an Environment Control section with its own set of controls. All of the 30 included templates includes reflections that users can alter by adjusting a few simple controls. Finally, every template includes unique elements like smoke, frame color, and backgrounds that can be altered by tweaking a few easy controls. Develop an impressive and unique scene within seconds.
All ProLayout Cinematic presets contain numerous layers of text that can be fully adjusted within Final Cut Pro X. As a result, editors can change the positional orientation and rotational angles of each text layer to create parallax effects. In addition, change the font type, style, color, size by simply double clicking on the text in the Viewer window to access Final Cut Pro's Title Tab in the top-right section of the workspace.
Established in 2006, Aliso Viejo, California-based Pixel Film Studios is an innovative developer of visual effects tools for the post-production and broadcast community. Their products are integrated with popular non-linear editing and compositing products from Apple FCPX. Apple, the Apple logo, Mac OS X, and Macintosh are registered trademarks of Apple Inc. in the U.S. and/or other countries. All other trademarks and trade names are the property of their respective owners.