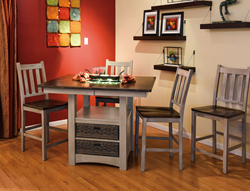 The new Brandenberry website is designed to make the custom-furniture buying experience as easy and hassle-free as possible.
SHIPSHEWANA, Ind. (PRWEB) May 22, 2018
In an effort to give customers the best user experience possible on their PCs, laptops or mobile devices, Brandenberry Furniture, Shipshewana, Indiana, has launched a new website, https://www.brandenberryamishfurniture.com/.
One of the primary goals of the new website is to showcase Brandenberry's array of thousands of Amish furniture products as effective as possible. "The new Brandenberry website is designed to make the custom-furniture buying experience as easy and hassle-free as possible," says Floyd Eash, a furniture consultant at Brandenberry Furniture.
The website accomplishes this "showroom" experience through large, beautiful product photos as well as product descriptions that serve as a silent -- but effective -- salesperson. "We recognize that buying custom-made furniture is a major decision. So we seek to provide all the relevant information, so customers can make an informed decision," Eash says.
Customers who decide on a product can use two clickable resources to customize the product. The "Design Center" customization tool shows custom options such as wood species, hardware, leather and fabrics.
Clicking on the "Customize This Product"" icon gives customers the option of choosing a number of features pertaining to a particular product. For example, customers who choose a TV cabinet can select the wood specie, hardware, drawer slide, unit size, power strip and casters.
The website's blog features stories on Brandenberry products plus information on subjects like furniture types and trends, hardwood characteristics and furniture-buying tips. Blogs also provide information on interesting things to see and do in picturesque Shipshewana, Indiana, home of Brandenberry Amish Furniture and home of the largest concentration of Amish people in Indiana.
Customers who have visited Brandenberry's website before are invited to check back regularly, since the product information and blogs are updated on a regular basis. New Amish Furniture designs and products and existing Amish Furniture pieces are updated daily.
About Brandenberry Amish Furniture:
Brandenberry Furniture opened its doors in 2008. The Brandenberry Furniture concept allows customers to design the furniture of their dreams. This includes exploring the rich woods and stains that only nature can offer. Nothing matches the feel, smell and weight of hickory, oak, cherry and maple. These are real woods that come to life in an Amish handcrafted piece. They are meant to last a lifetime and beyond.
Whether a customer's favorite style is Mission, Traditional, Modern or something in between, if Brandenberry Furniture doesn't carry it, their craftsmen will build it to specification.
Brandenberry Furniture offers everything from bedroom and dining collections to home accessories, patio and exclusive furniture pieces. Browse our easy-to-use website with detailed photographs and information, and you'll find furniture categorized by room (including family room, dining room, bedroom, office, children's) as well as by wood species (including oak, hickory, cherry, elm, maple, pine and cedar) and style.