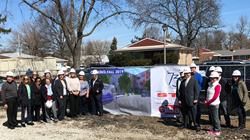 SKOKIE, Ill. (PRWEB) May 01, 2018
School district officials from East Prairie School District as well as students, teachers, representatives from the community and public officials were in attendance to celebrate the official groundbreaking for the new school in Skokie. Also in attendance were representatives from the project team including Gilbane Building Company as construction manager and STR Partners as the architect.
Gilbane will serve as construction manager for the new $47 million elementary school being built on the existing school site. The school will remain fully operational throughout construction with construction being completed in phases. The project was made possible by a successful November 2016 referendum.
"Gilbane is proud to partner with East Prairie School District on this project that will provide students and staff with a brand new elementary school to support the District's continued growth. At the groundbreaking ceremony, you could feel the energy and excitement from the community. It's great to be a part of such an important project." – David Norris, Gilbane Building Company Project Executive
During the referendum process, Gilbane partnered with the board of education, administration, building committee, community and STR Partners to determine five different project options ranging from life safety, additions and renovations to the existing East Prairie School and a new school facility. Working with a citizen task force and hosting numerous town hall meetings, Gilbane was heavily involved with community engagement events regarding safety planning, budget, schedule, phasing and logistics to provide a thorough plan for the community to understand heading into the vote. Ultimately, the community's support resulted in a 65% yes vote.
About Gilbane Building Company
Gilbane provides a full slate of construction and facilities-related services – from pre-construction planning and integrated consulting capabilities to comprehensive construction management, general contracting, design-build and facility management services – for clients across various markets. Founded in 1873 and still a privately held, family-owned company, Gilbane has 46 office locations worldwide. For more information, visit http://www.gilbaneco.com.
Gilbane has two permanent offices located in Chicago, as well as an extensive knowledge of the Chicagoland market including construction processes, area subcontractors/suppliers, local M/WBE contractors, and familiarity with Chicago jurisdictional authorities. With 40 years of success in the highly competitive Chicagoland market, Gilbane is committed to continuing the strong tradition of excellence in the Chicago construction industry.