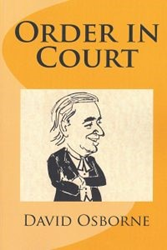 LONDON (PRWEB) May 01, 2018
Barrister and author David Osborne explores the sometimes crazy and unexpectedly funny world of British jurisprudence in his latest book "Order in Court," and the Old Bailey will never be the same!
"Order in Court is the book I didn't know I needed to read until I opened the first page," says one Amazon reader.
Toby Potts is fresh out of law school and anxious for his first case. But the young man gets off to a shaky start. He can hardly wait to impress a jury with his brilliant cross examinations and his spellbinding presentations. Instead, he ends up representing the wrong client, and the trial judge turns out to be the Honourable Mr. Justice Boniface, otherwise known as "Old Sourpuss," considered a holy terror in the courtroom.
Toby's highly absurd brushes with strange clients, courtroom politics, and eccentric judges combine for an amusing tale worthy of a Dickens farce.
The verdict is in! Amazon reviewers say:
"Beautifully succinct writing and hysterical legal anecdotes."
"Another great read by David Osborne."
"In these troubled times it is good to read a book which is an excellent blend of accurate narrative and sound humour; David Osborne's background as a successful barrister does much to add credence to the storyline … The adventures of Toby Potts might well mirror the early life of the author and we are left guessing as to which bits are fact and which, if any, are fiction … Having read the author's previous book based on the life of Toby, I very much hope that this will continue into a full series much like 'Rumpole of the Bailey.' An enjoyable read in all respects – let's have some more!"
"Many years ago, in another life, I worked in London for barristers and solicitors … 'Order in Court' took me right back to those days, reminding me of the wit, the banter, the absurdity of some legal cases, and how seemingly normal people can behave incredibly badly when the pressure comes on. If, like me, you enjoy human train wrecks – this is the book for you. I cannot remember laughing so hard in a long time … Told with a dry wit, understated and self-deprecating humour, Osborne provides an acute observation on human nature through anecdotes of court cases … Buried amongst the humour and wit, however, are some keen insights into the legal world and class system … 'Order in Court' is the book I didn't know I needed to read until I opened the first page."
About the Author: An English barrister with over 40 years' experience in private practice, David Osborne, "the Barrister Bard," first practised criminal law in London, and now practises general common law from his chambers in Somerset. This is his second book in the Toby Potts series. The first is "May It Please Your Lordship." He and his wife Sally have four children and three grandchildren.
Author website: http://www.david-osborne.com/toby_potts.php
Author blog: http://www.david-osborne.com/blog/
"This delightful novel about the British court system will bring a smile to readers, as it relates a barrister's first day on the job, as well as his further misadventures. We are most pleased to announce its release," said Robert Fletcher, CEO of Strategic Book Publishing and Rights Agency.
ORDER IN COURT (ISBN: 978-1-68181-434-6) is available for $18.50 and can be ordered through the publisher's website: http://sbprabooks.com/DavidOsborne or at Amazon.com or Barnesandnoble.com.
WHOLESALERS: This book is distributed by Ingram Books and other wholesale distributors. Contact your representative with the ISBN for purchase. Wholesale purchase for retailers, universities, libraries, and other organizations is also available through the publisher; please email bookorder(at)sbpra(dot)net.