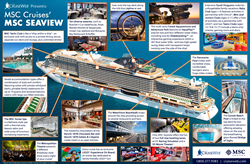 CALVERTON, Md. (PRWEB) May 02, 2018
MSC Cruises' latest innovative cruise ship, MSC Seaview, will be making her eagerly awaited debut this summer. She will be a sister ship to MSC Seaside and will carry up to 5,179 passengers. MSC Cruises focuses on fun for the entire family, and everyone, from the smallest members to the adults, is guaranteed to have fun on MSC Seaview. While waiting for her anticipated debut, cruisers can enjoy a sneak peek of MSC Cruises' MSC Seaview with a new infographic from The Cruise Web.
Preview MSC Cruises' MSC Seaview in The Cruise Web's latest infographic:
https://cruiseweb.com/images/cw-infographic-msc-seaview.jpg
Cruisers on MSC Seaview will have a ton of options for entertainment and activities – no boredom on this ship! Thrill seekers can soar along the top deck on the 426-foot zipline, or experience the four waterslides in the multi-story Forest Aquaventure and Adventure Park. One of these slides is for Slideboarding, which is an interactive gaming experience within the 367-foot water slide. After guests dry off, they can then challenge friends and family to a bowling game at one of the two full-size bowling lanes or race at the F1 racing simulator. Next, guests can catch a Broadway-style show at the Metropolitan Theatre – a different show is performed every night of the cruise! No matter what guests feel like getting into, they'll have plenty of activities and entertainment for the entire family aboard MSC Seaview.
During the day, however, different members of the family may want to do their own thing, and MSC Seaview will give everyone exactly what they want. For the smallest members of the family, the youth programs are perfect for keeping children entertained during the day. While the kids are occupied, adults can indulge in some quality rest and relaxation at The MSC Aurea Spa with a thermal area, beauty salon, massages and a large selection of revitalizing treatments.
After everyone has worked up an appetite, MSC Seaview has plenty of delicious dining venues so the family can enjoy dinner together. In fact, there are ten eateries to choose from with each serving delicious cuisine. The main restaurants on MSC Seaview serve a tasty blend of Mediterranean cuisine and international specialties. Butcher's Cut serves quality prime cuts of steak from around the world, along with plenty of other delicious dishes. A teppanyaki restaurant serves authentic Asian cuisine prepared only with the freshest, highest quality ingredients, and Ocean Cay serves the most flavorful seafood. This is just a sampling of the venues available on board – with so many dining venues to choose from, trying them all will be half the fun.
With a full belly, everyone will probably be ready to retire to the stateroom. Thankfully, MSC Seaview has stylish and comfortable staterooms to fit different budgets and needs. The MSC Yacht Club Suite is ideal for cruisers who want to sail in luxury. In fact, the MSC Yacht Club is like a ship within a ship, meaning those guests get access to a private dining venue, separate sun deck and lounge, unlimited drinks, and more! For families looking to stay close to each other – the family staterooms are perfect. These are 2-3 connecting balcony staterooms that allow families stay close to each other throughout the trip. Other stateroom types include a balcony for cruisers looking to experience the sea breeze with some privacy, oceanview for cruisers wanting some natural light into their stateroom, interior for the budget-minded cruisers, and many more.
MSC Cruises' MSC Seaview will begin sailing Mediterranean itineraries in June 2018, with a few South America itineraries also scheduled for later in the year. No matter which itinerary cruisers choose, they are guaranteed to have a memorable vacation aboard MSC Seaview.
To learn more about MSC Seaview and her upcoming itineraries, call The Cruise Web today at 1-800-377-9383 to speak with an expert cruise consultant.
About The Cruise Web
The Cruise Web is a cruise-only travel agency with over 20 years of experience matching travelers with their perfect cruise vacation. Using a fun, personal and complimentary planning process, The Cruise Web's cruise consultants help clients every step of the way. The Cruise Web's clients come from around the world but all have one thing in common – they are looking for the best value for their time and money. Call The Cruise Web today at 1-800-377-9383 (toll-free) or 001-240-487-0155 (international), and visit CruiseWeb.com for the best cruise deals.