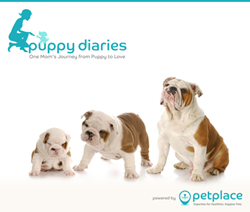 Our Puppy Diaries is the ultimate puppy parenting guide for first time puppy owners and even those who have had puppies in the past. We wanted to find a way to empower them with timely insight and understanding to make the best decisions during their new puppy journey.
NEW YORK (PRWEB) May 01, 2018
PetPlace.com, the popular destination for pet parents since 2006, announced today the launch of a new original series, Puppy Diaries- One Mom's Journey from Puppy to Love. Approximately 70,000 puppies and kittens are born every day in the United States, according to the Humane Society of the United States. Some of these puppies are adopted from rescues and shelters, while others are purchased from breeders. Regardless of how the puppies join a family, new puppy parents experience profound joy bringing home their "fur baby" yet struggle with what-to-do and when-to-do-it--- just as with human babies.
Penned by a respected published author and first-time pup mom Laura Tiebert, the Puppy Diaries series chronicles the ups and downs of pup parenthood: from deciding to get a family dog to celebrating the pup's milestones, health scares and even a ruined cherished rug. Revealing new pup-parent mistakes and unexpected successes, leading to advice, tips and plenty of humor, the Puppy Diaries will take the reader through the first year of life for Sommer, her pup.
"Our Puppy Diaries series was born out of our desire to help pup parents navigate the uncharted waters of puppy parenting. This is the ultimate puppy parenting guide for first time puppy owners and even those who have had puppies in the past. We wanted to find a way to empower them with timely insight and understanding to make the best decisions during their new puppy journey," said Tim O'Hare, Publisher for PetPlace.com. "We are so grateful to Laura and her family for the candid portrait of bringing up Sommer and hope our readers will join us in their journey to puppy love."
Published twice a month, Puppy Diaries can be found at http://www.PetPlace.com or through a subscription to the Puppy Crazy newsletter to receive new diary entries directly to your inbox. Readers will be guided through the first year of puppy parenting with timely and expert level advice, including training, housebreaking, socializing, medical care, cost of puppy care and the important role pet insurance can play for your puppy and your wallet. Additional photos and content for the Puppy Diaries can be found on http://www.facebook.com/petplacefans and Instagram http://www.instagram.com/petplacefans .
PetPlace attracts over 1,200,000 visitors each month as the popular web destination for pet parents concerned with their pet's health and well-being. PetPlace's content includes more than 10,000 veterinarian approved articles covering topics such as pet health conditions, breed information, behavior and training, medications and general wellness and care. Since its launch in 2006, thousands of pet parents have subscribed to PetPlace to receive news and information important to them via email as well as through social media channels such as Facebook and Twitter.
For more information on PetPlace or the Puppy Diaries, please contact Jeena Choi at 917-882-0960 or Jeena.Choi@IHCGroup.com.
About PetPlace.com
PetPlace was founded by a veterinarian in 2006 with one purpose in mind: to provide the most credible and accurate pet health and wellness information so that our pets can live happier, healthier lives. To achieve this goal, PetPlace assembled a "world-class" editorial team of pet experts and authors, including vets, vet techs, trainers and behaviorists from the academic and veterinary sciences industry worldwide. With a library of over 10,000 veterinarian written/approved articles, PetPlace.com offers the largest and most complete source of pet information available anywhere. PetPlace.com became a member of The IHC Group in 2016.
About The IHC Group
Independence Holding Company (NYSE: IHC) is a holding company that is principally engaged in underwriting, administering and/or distributing group and individual specialty benefit products, including disability, supplemental health, pet, and group life insurance through its subsidiaries since 1980. The IHC Group owns three insurance companies (Standard Security Life Insurance Company of New York, Madison National Life Insurance Company, Inc. and Independence American Insurance Company), and IHC Specialty Benefits, Inc. (IHC SB), a technology-driven full-service marketing and distribution company that focuses on small employer and individual consumer products through general agents, telebrokerage, advisor centers, private label arrangements, and through the following brands: http://www.HealtheDeals.com; Health eDeals Advisors; Aspira A Mas; http://www.PetPartners.com; and http://www.PetPlace.com. IHC creates value for insurance producers, carriers and consumers (both individuals and small businesses) through a suite of proprietary tools and products, all of which are underwritten by IHC's carriers or placed with highly rated insurance companies.