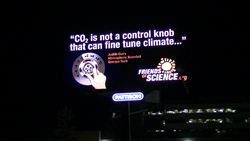 What's being achieved by levying a carbon tax?... Reducing carbon dioxide levels in Canada will have no measurable impact on the Earth's climate
CALGARY, Alberta (PRWEB) May 01, 2018
Canadian climate scientist Dr. Madhav Khandekar warns of a global cooling trend in an article published by Frontier Centre for Public Policy on April 19, 2018, says Friends of Science. Friends of Science says activists like Dr. Suzuki, at the centre of an honorary degree controversy at the University of Alberta, misdefine climate change for policymakers by using the political, instead of the scientific definition, resulting in costly, ineffective policies like carbon taxes.
Khandekar writes of the global trend toward cooling that: "…Canadian federal and provincial politicians are pushing carbon taxes and carbon pricing in order to stop global warming. What global warming?… Finding global warming in Canada and elsewhere is like finding a needle in haystack.…What's being achieved by levying a carbon tax?... Reducing carbon dioxide levels in Canada will have no measurable impact on the Earth's climate."
Dr. Madhav Khandekar holds a PhD. in meteorology from the Florida State University and an MSc in statistics from Pune University India. Khandekar has been a weather and climate scientist for over 60 years, is a past IPCC expert reviewer, and former WMO regional expert. He has published more than 150 papers, reports, book reviews and scientific commentaries. He will be one of the guest speakers at this year's Friends of Science 15th Annual Event in Calgary on May 15th.
There has been an outpouring of public outrage in Canada that Dr. Suzuki would be awarded an honorary degree by the University of Alberta, as reported in Calgary Herald on April 19, 2018. The outrage stems from the fact that many Canadian energy policies having been adopted due a barrage of environmental activists championing Suzuki's high-profile and unscientific rhetoric about climate change and the oil sands.
This Jan. 27, 2011 critique of Suzuki's role in "The Tipping Point" documentary summarizes the scientific failings of his rhetoric on the oil sands. The indiscriminate attacks on the Alberta oil sands have led to the loss of billions of dollars and jobs in the Canadian economy. Dr. Suzuki is a genetist, not a climate scientist.
Climate scientists have expressed concern in the past that Dr. Suzuki will 'insult but not debate.' In the Financial Post, Aug. 12, 2011, Dr. David Legates, Professor of Climatology at the University of Delaware, writes in defense of Dr. Willie Soon who was subjected to an attack by Dr. Suzuki. Dr. Soon, an astrophysicist, holds the position that solar cycles drive climate change. A recent interview with Dr. Soon is posted on Friends of Science blog.
Climate science author Roger Pielke, Jr. published a paper in 2005 entitled "Misdefining Climate Change" which outlines the consequences to society of misdefining climate change as 'dangerous' - a political, not scientific definition.
LINK: sciencepolicy.colorado.edu/admin/publication_files/resource-479-2004.10.pdf
Climate scientist Judith Curry testified to the US Senate on Jan. 16, 2014 that, based on the evidence of the recent IPCC AR5 report, carbon dioxide is not the control knob that can control climate; policies to reduce carbon dioxide and warming may be futile.
Friends of Science Society says wind and solar policies, which generate Renewable Energy Credits for carbon markets, triple the cost of power. Contrary to Michael Bloomberg and Canadian Minister McKenna's #poweringpastcoal initiative, reliable, affordable coal is necessary for society facing a period of cooling.
About
Friends of Science Society is an independent group of earth, atmospheric and solar scientists, engineers, and citizens who are celebrating its 16th year of offering climate science insights. After a thorough review of a broad spectrum of literature on climate change, Friends of Science Society has concluded that the sun is the main driver of climate change, not carbon dioxide (CO2).
Friends of Science Society
P.O. Box 23167, Mission P.O.
Calgary, Alberta
Canada T2S 3B1
Toll-free Telephone: 1-888-789-9597
Web: friendsofscience.org
E-mail: contact(at)friendsofscience( dot)org
Web: climatechange101.ca