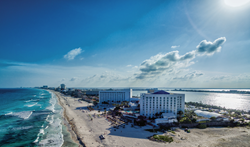 CANCUN, Mexico (PRWEB) May 02, 2018
Sunset World Resorts & Vacation Experiences presented its new division VIA Resort Innovation, a value formula for hoteliers and investors that improves the efficiency of any hotel operation while at the same time exponentially increasing income and enriching the guest experience utilizing its team's experience in commercial, operational, administrative, business and technology areas of the tourism industry. VIA Resort Innovation is led by José Antonio Rivera as CEO and Alejandro Watson as Commercial and Development VP.
"Our new division, VIA Resort Innovation, was created to provide owners and investors of independent hotels aimed at leisure travelers a value formula. It consists of two strategic areas in which we have a wide and tangible experience: VIA Resort Management, which focuses on optimizing all operational and administrative areas of the hotel business so that its marketing is enhanced, and VIA Destination Club which is the marketing part, with successful marketing programs and hotel sales that offer interesting holiday programs. Finally, there is our integral IT platform with expert technology developers for hotel operations. In short, we offer an unprecedented business model that works for sustained growth," said Orlando Arroyo, President of Sunset World.
Sunset World's history encompasses more than 30 years of experience. Its directors and project leaders are respected figures in the hospitality industry who have been pioneers in the creation of successful developments, including Cancun, loyalty programs, international vacation clubs and the promotion of Mexican hospitality.
In 1986 Sunset World's partners started developing the first hotel in Cancun. Since then, the company has expanded to include four hotels in Cancun and two resorts in Playa del Carmen, as well as other hospitality services that provide exceptional and accessible vacations to repeat customers from around the world.