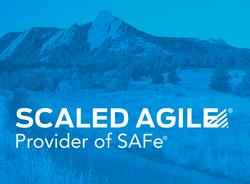 "We are proud to be a part of the Colorado entrepreneurial and innovation ecosystem that draws on a highly skilled workforce to serve a world increasingly transformed by digital technology."
BOULDER, Colo. (PRWEB) May 01, 2018
Scaled Agile, Inc., provider of SAFe®, the world's leading framework for enterprise agility, today announced it has recently moved to a 27,000-square-foot office space at 5400 Airport Blvd. The space was formally unveiled during an open house event in February.
The new headquarters allows Scaled Agile to better accommodate the company's current number of team members as well as provide for anticipated further growth. Scaled Agile hired 30 new team members in the past six months and will be hiring up to as many as 40 new employees in sales, marketing, course content development, and engineering teams. For more information about career opportunities at Scaled Agile, please visit scaledagile.com/careers.
Not only is global interest in SAFe increasing, Scaled Agile continues to expand its leadership role in this important area. Additional U.S. and international expansion is planned for 2018. The company has more than 180 global partners to help engage with and shape the global community of next-generation Agile organizations comprised of industry leaders, growth companies, and startups.
"Today, almost every company is a tech company, and with the business world's focus continuing to center around ongoing innovation, the demand for enterprise agility has never been more pronounced," said Chris James, President and Chief Operating Officer, Scaled Agile. "We are excited to help guide the organizations that develop and depend on the world's most important systems in scaling Lean and Agile practices—regardless of size."
By connecting strategy to execution, the Scaled Agile Framework visualizes how to apply Lean and Agile practices and principles to the team, program, and portfolio levels, providing the principles and practices that unlock enterprise agility for corporations like Intel, Capital One, Fannie Mae, fitbit, and Northwestern Mutual.
"We don't spend a lot of time dwelling on our accomplishments," said Dean Leffingwell, co-founder and chief methodologist for Scaled Agile. "But when we moved to an office that's 27,000 square feet, it took a moment to realize five years ago we were in an office above my garage." 
"We have been based in Boulder since our founding in 2011," James added. "We are proud to be a part of the Colorado entrepreneurial and innovation ecosystem that draws on a highly skilled workforce to serve a world increasingly transformed by digital technology."
About Scaled Agile, Inc.:
Scaled Agile, Inc., is the provider of SAFe®, the world's leading framework for enterprise agility. Through learning and certification, a global partner network, and a growing community of over 250,000 trained professionals, Scaled Agile helps enterprises build better systems, increase employee engagement, and improve business outcomes. Scaled Agile is a contributing member of the Pledge 1% corporate philanthropy and community service movement. Learn about Scaled Agile and SAFe at scaledagile.com and scaledagileframework.com.