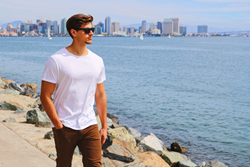 Collectr's Spring 2018 collection is launching this month.
SAN DIEGO (PRWEB) May 04, 2018
Collectr clothing west coast vibes Collectr's t-shirts feature the luxurious high quality and style of Supima® cotton. Collectr carries both mens and womens casual lifestyle apparel.
The new collection features a themed beach paradise from various artists and high quality tshirts.
"Connecting people through our collection of artists, surfers, musicians, and friends. That's what Collectr is all about," said Jim Schechter, Director or Business Development at Collectr. "The end product is a naturally inspired clothing brand, COLLECTR."
The collection includes mens and womens tees for the active lifestyle and casual wear. "Our goal is use high-quality material along with prints from various artists from throughout the world," said Ian Schechter. "Our spring /summer collection is based on the vacation paradise and includes artwork from French artist Clara Guelfi."