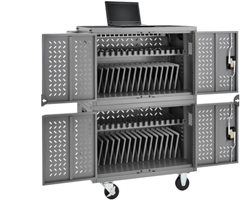 While they make a variety of products, HITEK's top three products in the K-12 market are their Rugged iPad Case, iPad Wired Keyboard, and their Rugged Laptop Case.
CHICAGO (PRWEB) May 02, 2018
HITEK are pleased to be exhibiting at the upcoming Brainstorm Educational Technology Conference in Ohio. This conference is organized by META, Inc (Midwest Educational Technology Association). Their goal is to provide valuable education and information to those in the K-12 educational technology sector. HTEK will have their most popular products out for hands on demonstration.
While they make a variety of products, HITEK's top three products in the K-12 market are their Rugged iPad Case, iPad Wired Keyboard, and their Rugged Laptop Case. All three of these products have been top rated by educators. Not ones to rest on their laurels, HITEK are constantly coming out with new and improved generations on these products. Right now they are most excited about the third generation Rugged Laptop Case.
HITEK's third generation Rugged Laptop Case has the same "always-in" design with proprietary Cooling Channel™ technology that allows the computer to be used without being removed from the case along with some exciting new features. The revolutionary AlumiShield plate in their G3 bag offers unprecedented protection and virtually eliminates broken screens from external impact. This case also offers universal compatibility with Apple, Dell, HP, Lenovo, Acer, ASUS, Toshiba, Samsung, and all brands of laptop computers.
The Apple MFI Certified iPad Wired Keyboard comes in either an 8-pin Lightning or 30-pin connector. Wired keyboards are recommended over Bluetooth for large deployments and standardized tests due to their superior reliability, reduced interference, and easy management which make this keyboard a great solution for standardized testing with iPads. Usage is a breeze with zero Bluetooth sync issues or batteries to replace.
The Rugged iPad Case provides rugged protection for the 5th Generation (2017) iPad or iPad Air 2/Pro. It is specifically designed for K-12 schools, with assist tracking windows, screen protector and compatibility with all popular charging carts. It also features a strong kickstand with stainless steel pins for superb stability. The ports, cameras and microphones are left open for ultimate ease of use.
About Sunrise Hitek
Sunrise Hitek is a leading maker of protective gear for schools' 1:1 technology programs. HITEK has been designing tech accessories since 2013 and expanding ever since. Their primary customer are K-12 schools, leading them to recently develop the hitekcases website specifically for the educational sector. Sunrise Hitek Group, LLC, also operates Sunrise Hitek, a leading color printing company based in Chicago. As a G7 Qualified Master Printer, Sunrise is uniquely qualified among protective gear makers to offer a wide array of customization options, ensuring the most consistent and accurate color reproduction. Sunrise is an Inc. 5000 company established in 1988 and employs the most advanced equipment and technology, such as G7-certified HP Indigo and UV flatbed presses, and digital die-cutting, to create best-in-class products. A privately-owned enterprise, the company is based in Chicago and sells products worldwide.